© Copyright 2004 by A.E.L.E., Inc.
Contents (or partial contents) may be downloaded,
stored, printed or copied by, or shared with, employees of
the same firm or government entity that subscribes to
this library, but may not be sent to, or shared with others.
Best viewed with Microsoft Internet Explorer 5+



An employment law publication for law enforcement,
corrections and the fire/EMT services,
ISSN 0164-6397
Cite this issue as:
2004 FP Aug (web edit.)
Click here to view information on the editor of this publication.
Return to the monthly publications menu
Access the multiyear Employment Law Case Digest
Report non-working links here
Some links are to PDF files
Adobe Reader™ must be used to view content
Featured Cases – with Links
Civil Liability
Collective Bargaining - Duty to Bargain
Disability Rights and Benefits
Disciplinary Procedures
E-Mail/Internet - Legal Issues
FLSA - Overtime
FLSA - 7k Exemption
Family, Medical & Personal Leave
Homosexual & Transgendered Employee Rights
Psychological Exams
Union Activity
Workers' Compensation
Age Discrimination - Entry
Civil Service
Disability Rights
Disciplinary Hearings - Untenured
Disciplinary Investigations
Disciplinary Offenses
Family Leave
First Amendment Related
Handicap Discrimination - Accommodation
Injuries to Employees
Pay Disputes
Racial Harassment
Religious Discrimination
Resignations
Retirement Rights and Benefits
Sex Discrimination - In General
Sex Discrimination - Reverse Discrimination
Sexual Harassment
Transfers - Disciplinary or Punitive
Union and Associational Activity

FEATURED CASES & ITEMS
WITH LINKS TO THE OPINIONS OR DOCUMENT
Police chief had no duty to prevent an off-duty assault of one officer by another. The adoption of a code of conduct did not impose a duty on the chief of police to protect others from harm.
While off-duty and following a drinking session, Hartford officer Murdock was assaulted by a coworker, Antonio Cancel. Murdock sued the chief of police, claiming that he was negligent because:
"he knew or should have known that [Cancel] had violent and aggressive tendencies which placed co-workers at risk and failed to take any action to protect or warn Cancel's subordinates ... of such risk; he failed to properly investigate or discipline [Cancel] as to incidents of violent and aggressive behavior; [and] he failed to train or retrain [Cancel] ... [to] prevent or minimize his violent and aggressive tendencies ..."
The jury awarded the plaintiff about $1 million, including $890,000 in non-economic damages. The judge set aside the verdict, and the plaintiff appealed.
The Supreme Court noted that the jury specifically found that officer Cancel was not acting within the scope of his employment at the time of the incident. The facts did not establish a special relationship between the chief of police and the assaulted officer.
Moreover, the department's code of conduct did not impose a duty on the chief of police to protect the police officer from harm by the assaulting officer. The justices said:
"The code of conduct is the mechanism by which the chief of police ... regulates the efficiency, discipline, and good conduct of the department ... By its terms, the code of conduct establishes standards of conduct, both on and off duty, the violation of which may subject a department employee to disciplinary action.

"It does not, however, impose any affirmative obligation on the part of [the chief] to enforce the code of conduct's provisions, and therefore does not establish any duty owed by [the chief] to the plaintiff.

"To require as much transcends [the chief's] responsibility for departmental efficiency and transforms him into a parental proxy responsible for micromanaging the private lives of employees. We are unwilling to do that here."
They said that the trial court "properly found" that the chief of police owed no duty to protect the police officer or to control the conduct of the assaulting officer. Murdock v. Croughwell, SC#16987, 268 Conn. 559, 2004 Conn. Lexis 165 (2004).
• Click here to view the opinion on the Internet. [PDF]
• Return to the Contents menu.
FLRA regional office concludes that management, in creating a physical fitness program for Pentagon police officers, was not required to bargain over a grandfather exemption clause or the creation of a medical review and physical fitness board.
The FOP claimed that that the DoD failed to bargain in good faith and unilaterally implemented an Occupational Medical and Fitness Program, for Pentagon police officers.
Actually, the parties met and bargained a memorandum agreement. All of the union's proposals were incorporated into the agreement in some fashion, except for a grandfather clause and objections to a Medical Review and Physical Fitness Board, which management had declared non-negotiable.
In reviewing the labor practice charge, the Federal Labor Relations Authority assumed that management had changed a condition of employment for bargaining unit employees by implementing the Occupational Medical and Physical Fitness Program. However, it also noted that management and the union had engaged in negotiations and came to an agreement. The proposals which were not included in the agreement had been declared non-negotiable by management.
The FLRA agreed with that determination, saying that "the intrusion on the exercise of management's right to determine particular qualifications and skills needed to perform the work of a particular position and whether employees meet those qualifications outweighs any benefits the [union's] proposal might afford unit employees."
The FLRA dismissed the unfair practice charge, and the union is free to appeal. Pentagon Force Protection Agency and Frat. Order of Police DPS Labor Committee, FLRA Case #WA-CA-04-0251 (Wash. Region, 2004).
• Click here to view the determination on AELE's website. [PDF]
• FLRA's unfair labor practices procedure.
• Return to the Contents menu.
Disability Rights and Benefits
- Continuing Eligibility/ Testing
•••• Editor's Case Alert ••••
Illinois appeals court holds that disability benefits may be revoked for an officer who no longer is disabled, even though there are no light duty positions available to him.
In 1993, the chief of a suburban Chicago police dept. was fired by the new mayor, and obtained a duty-related pension for an injury to his left knee.
In 2002 the Pension Board terminated the benefits, noting that a private investigator took video surveillance of the ex-chief performing as a rodeo clown on five different occasions. The video showed him running, jumping, climbing fences, dancing, running from bulls, leaping on top of and climbing into a barrel, carrying the barrel and being rammed by a bull while crouched inside the barrel.
A physician's report indicated that the ex-chief would be disabled from full-duty employment as an entry-level police officer, but could return to full-duty employment as a supervisory officer. No such positions were available in the police dept.
The trial court concluded that because the appellant could not return to his job as chief or other administrative position, he was entitled to retain the disability benefits. A three-judge appellate panel has reversed.
State law provides, except for those who voluntarily retire after 20 years' of service, if the recipient has recovered from disability, the board shall certify that the person "is no longer disabled and is able to resume the duties of his or her position."
The panel rejected the claim that a pension board cannot deny a duty disability pension without offering the recipient a position with the police dept.
They said that the law does not require that a position be available for an officer upon the termination of his disability pension. This was especially true here, because he had been terminated as chief, an at-will position. They concluded:
"... we find no legal support for the trial court's decision that [a person] must continue to receive a disability pension even though he is no longer disabled and discharged from the department solely because his former position of chief of police was no longer available."
Rhoads v. Bd. of Tr. of Calumet City Policemen's Pension Fund, #1-03-2012, 2004 Ill. App. Lexis 579 (1st Dist. 2004).
• Click here to view the opinion on the Internet.
• Return to the Contents menu.
LAPD settles a suit brought by the union; management agrees not to permanently reassign officers charged with misconduct, until a Board of Rights hearing is held. Temporary duty restrictions and reassignments still permitted, but now officers will be able to take an administrative appeal. $350,000 to be paid to 80 officers.
In 2000, a number of LAPD officers and their union sued the chief and the city challenging the legality of the LAPD's "Brady letter" policy.
Management would inform officers that, because of previous or pending disciplinary action, they were to be immediately be reassigned to non-field related or administrative duties.
The policy had been developed in response to the Brady doctrine, which requires a prosecutor to disclose material exculpatory or impeachment evidence to the accused in a criminal prosecution. See Brady v. Maryland, 373 U.S. 83 (1963).
The union claimed that the policy deprived officers of property interests without due process because:
1) the L.A. City Charter and other provisions create an entitlement in officer positions and pay;
2) officer reassignments pursuant to "Brady letters" resulted in pay and benefit reductions, such as the loss of a patrol bonus and skill or merit pay; and,
3) management did not permit officers to appeal the reassignments administratively.
To end the litigation, the city agreed that the LAPD will cease using the "Brady Letters" when it informs an officer that his or her duty is being restricted because of credibility concerns.
Instead, the LAPD will issue a duty restriction letter which simply documents the fact that an officer's duty is being restricted pursuant to LAPD policy and informs his or her command officer of the duty restriction.
The long-term duty restriction letter will not reference any specifics of an officer's personnel or disciplinary history. A copy of the long-term duty restriction letter will be maintained in the officer's personnel file. Any current Brady letters will be replaced by the new duty restriction letter.
Management agreed not to initiate any permanent reassignment or permanent duty restrictions when an officer has been officially charged with misconduct, "until after such time as the officer has completed the process of a hearing before a Board of Rights, or has waived his or her right to such a hearing or process or any process which may replace the Board of Rights."
LAPD may continue its practice of initiating temporary duty restrictions or reassignments pending the completion of the Board of Rights process or waiver. Upon an officer being found not guilty of the charges which formed the basis for the duty restriction, the management agreed to immediately remove the duty restrictions placed on the officer, to retract the duty restriction letter and an annul the reassignment.
The City also agreed to pay $350,000 to the 80 Plaintiffs certified by the court, plus pay $150,000 in attorney's fees incurred by the paid by the Los Angeles Police Protective League to bring the civil action. Roe v. Parks, #00-cv-10811 (C.D. Cal. 2004).
• Click here to view the settlement on the Internet. [PDF]
• Editor's Note: See in general, "Disclosing Officer Misconduct: A Constitutional Duty," in the July 1996 FBI Law Enforcement Bulletin and "Police Officer Truthfulness and the Brady Decision" in Oct. 2003 issue of The Police Chief.
We previously reported [2003 FP Apr] that a federal court in D.C. refused to order the prosecutor to remove an officer's name from a blacklist -- thereby preventing him from making arrests, testifying in court or working undercover assignments. The due process clause and civil service laws do not protect a particular job assignment, not accompanied by a loss of pay. Humberson v. U.S. Attorney's Office, #02-2179, 2003 U.S. Dist. Lexis 242 (D.D.C. 2003).
• Return to the Contents menu.
Divided appellate court in Pennsylvania upholds management's prohibition against having pornographic matter on state owned computers.
A state university fired an employee for downloading porn onto a laptop computer owned by the university. He sought unemployment benefits, and the university contested the claim. The university rule prohibits "the creation, design, manufacture, preparation, display, or distribution of any written or graphic obscene material."
The appellant noted there was no evidence to establish that he downloaded or viewed pornography while at work, and said that a workplace rule forbidding the viewing of pornography at work is reasonable. The same policy, he said, is unreasonable if extended to conduct occurring off employer's premises when the employee is at work.
The majority concluded the appellant's argument lacked merit, noting:
"Whatever right claimant may have to view such material on his own time and with his own equipment, the University has every right to prohibit employees from using University property in a manner clearly not connected with work."
A dissenting judge noted that the employer actually fired the appellant for sexual harassment, excessive tardiness, poor work performance and for downloading pornographic material at work, not for violating the computer use policy.
Burchell v. Unemployment Comp. Bd., #2198 C.D. 2003, 2004 Pa. Commw. Lexis 328 (Comm. 2004).
• Click here to view the opinion on the Internet. [PDF]
• Return to the Contents menu.
Ninth Circuit holds that an officer is not entitled to select a specific day to use his comp time.
Sacramento County denied a leave request to satisfy a deputy's accumulated overtime. He sued, claiming that under a Dept. of Labor Opinion Letter he was entitled to use the leave at a requested time, having given adequate notice.
The county raised the bargaining agreement, which allows the county one year to comply. The Ninth Circuit sided with management, saying that it disagreed with DoL's interpretation because the statute clearly supports management's action.
Moreover, the bargaining agreement clearly states:
"If the department is unable to schedule and grant the time off within one year, cash payment shall be made in lieu of compensating time."
The county had a rigid leave policy, because of staffing concerns at the correctional facility where the plaintiff worked.
Writing for the panel, Judge Richard Tallman (who is married to a Seattle police sergeant) wrote that "section 207(o)(5) plainly defines the period between the date the employee submits his request and the date the employer allows the employee to use the comp time: the employee 'shall be permitted . . . to use such [comp] time within a reasonable period after making the request.'"

He added that mandating a reasonable period for use of comp time is different from mandating the employee's chosen dates. "The language offers a span of time to the employer, the beginning of which is the date of the employee's request," he wrote.
Mortensen v. County of Sacramento, #03-15185, 2004 U.S. App. Lexis 10163 (9th Cir. 2004).
• Click here to view the opinion on the Internet. [PDF]
• Click here to view the DoL Regulation and Opinion Letter on the AELE website.
• Return to the Contents menu.
City's failure to adopt a work period under the FLSA results in large overtime liability. Double damages were due for all nonexempt Boston police officers.
If Massachusetts is the first state to recognize same-gender marriages, it must be one of the last to adopt a workweek for police officers and firefighters under the ADA. Incredibly, Boston did not adopt the 7K provisions until 2002.
Police officers sued for overtime, i.e., for work more than 40 hours a week, at time-and-one half, plus double damages under the FLSA's liquidated damages provision.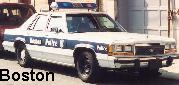 A federal court in Boston agreed with the claimants, and awarded unpaid overtime for more than 40 hours, and added the double damages provision. Harris v. Boston, #2002-10123-RBC, 2004 U.S. Dist. Lexis 5954, 9 WH Cases2d 941 (D. Mass. 2004).
• Click here to view the opinion on AELE's website.
• Return to the Contents menu.
Arbitrator holds that a pregnant employee who was absent from work for six days due to abnormal pain and bleeding, was entitled to leave without pay under FMLA, where she submitted doctor's letter substantiating her condition on the first day she returned. Her need for leave was a medical emergency.
Management concluded that a DHS employee was AWOL when she failed to appear for work. The grievant, who was pregnant, unexpectedly experienced pain and bleeding, prompting her six-day absence.
Under federal regulations, a request for leave under the FMLA should be made 30 days in advance, and a worker cannot retroactively invoke entitlement unless he or she can present documentation to support physical or mental incapacity.
However, another provision provides that if the need for leave is not foreseeable, such as a medical emergency, the 30-day notice does not apply, but the employee must provide notice within a reasonable period of time appropriate to the circumstances involved.

The grievance was upheld. The arbitrator found that the evidence established that the grievant's need for medical attention was an emergency.
He ordered DHS management to convert the Absence Without Leave entry to Leave Without Pay, under the Family and Medical Leave Act: 5 C.F.R. Part 630, Subpart L. Dept. of Homeland Security and AFGE L-1917, 119 LA (BNA) 833 (Lang, 2004).
• Click here to view the award on AELE's website.
• Return to the Contents menu.
Sixth Circuit resurrects the discrimination and retaliation claims of a pre-op transsexual fire lieutenant, who suffered insults and disciplinary action, and who was required to take at least three psychological fitness exams with the hope that he would resign.
After a male fire lieutenant, in a small Ohio town, announced that he planned to change his gender by surgery, city officials agreed to arrange for the Civil Service Commission to require the lieutenant to undergo three separate psychological evaluations with physicians of the City's choosing. They apparently hoped that he would either resign or refuse to comply. If he refused to comply, they could terminate him for insubordination.
The lieutenant sued in federal court claiming sex discrimination and retaliation, along with state law claims of invasion of privacy and civil conspiracy. The district court granted judgment on the federal claims to the defendants and dismissed the state law claims without prejudice.
On appeal, a three-judge panel noted that to prevail on a sex discrimination claim, a plaintiff must show that he is a member of a protected group, he suffered an adverse employment action, he was qualified for the position in question, and that he was treated differently from similarly situated members of the protected class.
The panel found that the plaintiff is a member of a protected class, i.e., a male with Gender Identity Disorder. As a lieutenant in the fire dept. for seven years. without any negative incidents, he was qualified for the position in question. He also showed that he was treated differently from other males because of his non-masculine behavior and Gender Identity Disorder (DSM-IV 302.85).
To prevail on a retaliation claim, a plaintiff must show that he engaged in an activity protected by federal law, the employer knew he engaged in this activity, the employer took some action adverse to him; and there was a causal connection between the protected activity and the adverse employment action.
The panel cited the Supreme Court's decision in Price Waterhouse v. Hopkins, 490 U.S. 228 (1989), where a female was denied a promotion because she was considered "macho." She had been told that she could improve her chances for advancement if she were to take a course at charm school, walk, talk and dress more femininely, wear make-up, have her hair styled, and wear jewelry. Six members of the Court held that such comments constituted gender discrimination because Title VII also bars gender stereotyping.
Here, the lieutenant claimed that because his mannerisms did not conform with sexual stereotypes" of how a man should look and behave," management allegedly schemed to compel his resignation "by forcing him to undergo multiple psychological evaluations of his gender non-conforming behavior." The panel said:
"After Price Waterhouse, an employer who discriminates against women because, for instance, they do not wear dresses or makeup, is engaging in sex discrimination because the discrimination would not occur but for the victim's sex. It follows that employers who discriminate against men because they do wear dresses and makeup, or otherwise act femininely, are also engaging in sex discrimination, because the discrimination would not occur but for the victim's sex. ...

"Discrimination based on transsexualism is rooted in the insistence that sex (organs) and gender (social classification of a person as belonging to one sex or the other) coincide. This is the very essence of sex stereotyping."
Because the plaintiff "successfully stated claims for relief pursuant to both Title VII and 42 U.S. Code §1983," the judgment of the district court was reversed and the case was remanded for trial. Smith v. City of Salem, #03-3399, 2004 U.S. App. Lexis 10611, 2004 FED App. 0160P (6th Cir. 2004).
• Click here to view the decision on the Internet. [PDF]
• Click here to view the IACP Police Psychological Services Section's Fitness-For-Duty Examinations Guidelines.
• Return to the Contents menu.
Psychological Exams and Standards
- Conduct Justifying a Required Exam
Seventh Circuit reverses the dismissal of a suit against a police psychologist, the village and others, where the plaintiff officer was ordered to submit to an intrusive fitness-for-duty exam after he narrowly lost an election to the incumbent mayor.
After running against the mayor and losing by a narrow margin, a suburban Chicago police officer found himself the target of a campaign to fire him. He allegedly was forced to use sick pay benefits during a suspension, in retaliation for initiating investigations against village's mayor and other officials, as well as for criticizing police chief.
He sued the village, the chief, a lieutenant, and the lawyer-psychologist that was hired to assess his fitness for duty. The U.S. District Court granted summary judgment in favor of the defendants; the Seventh Circuit has reversed.
The psychologist had found that the officer displayed narcissistic, paranoid and histrionic traits, but not rising to the level of a diagnosable personality disorder. He also observed a "marked tendency to make inferences based on highly tenuous evidence."
He concluded that the officer should "undertake a [three-month] course of psychotherapy directed toward helping him gain insight into the vagaries of his reasoning processes, their potential for disruption in the police department and the community, and the relationship to his own psychological needs and functioning."
Should the officer refuse, the psychologist said that he should be "found unfit for full active duty due to his potential for undermining the essential quasi-military hierarchical structure of the police department, undermining the essential element of morale in the police department, and undermining the essential element of the police department's having good relationships with external agencies in the community."
Thereafter the officer was served with a litany of charges, including falsely accusing the chief of mishandling records, improperly criticizing the handling of a DUI arrest, initiating unwarranted investigations, failing to agree to enter into psychotherapy and various minor deportments.
The three-judge appeals panel said "We need look only as far as the psychological evaluation and the administrative charge[s] filed against [the plaintiff] to confirm that [his] speech played a significant role in the department's determination to fire him."
They said that "effective police work would be hopelessly compromised if supervisors could retaliate against police officers for communicating factual details that bear on the department's ability to conduct an objective investigation."
The plaintiff maintained that management had no valid reason to order him to submit to the fitness exam in the first place and was "simply trying to manufacture a reason to fire him in retaliation for his exercise of his First Amendment rights." The appeals panel said that under any Illinois law, management was not entitled "to force the disclosure of the intimate and irrelevant details of [the plaintiff's] home life."
"Under these circumstances," they said, the plaintiff " is entitled to have a jury hear his claim and determine whether the defendants reasonably ordered the exam and whether the disclosure and republication exceeded the scope necessary to determine fitness for duty."...
The panel reversed the district court's judgment in favor of the defendants and remanded the case for a trial on the merits. The defendants were not entitled to qualified immunity since the state of law, during the relevant time period, gave them fair warning that their treatment of the plaintiff was unconstitutional. McGreal v. Ostrov, #02-3405, 2004 U.S. App. Lexis 9059 (7th Cir. 2004).
• Click here to view the decision on the Internet. [PDF]
• Editor's Note: The IACP Police Psychological Services Section's Fitness-For-Duty Examinations Guidelines state:
"In conducting an FFDE, it is usually desirable to collect background and collateral information regarding the officer. To capture the officer's pattern of conduct, this information might include performance evaluations, commendations, testimonials, internal affairs investigations, pre-employment psychological screening, formal citizen/public complaints, use-of-force incidents, officer-involved shootings, civil claims, disciplinary actions, incident reports of any triggering events, medical/psychological treatment records, or other supporting or relevant documentation related to the officer's psychological fitness-for-duty (e.g., some evaluators may ask the subject of the evaluation to submit documents and other data for the evaluator to consider). The evaluator should consider neither less nor more than that which is necessary to answer the referral question."
It goes on to say that the psychologist should compile "a biopsychosocial history (e.g., family, education, employment, marital, medical, legal, financial, substance use, attitudes reflecting bias and prejudice, history of psychological problems and treatment, etc.)"
However, it then says that "an agency is not entitled to any more psychological information regarding an employee than is necessary to document the presence or absence of job-related personality traits, characteristics, disorders, propensities, or conditions that would interfere with the performance of essential job functions. Thus, the written report provided to the agency should be restricted to only the presence or absence of these functional, job-related limitations with any pertinent psychological problems then linked with the essential job functions expected to be affected ..."
• Return to the Contents menu.
California Public Employment Relations Board judge rules that management violated state law by placing an administrator on leave and then demoting her, because she testified in support of two subordinate workers at a grievance hearing, resulting in a back pay award.
Hawkins, a senior state employee, testified under subpoena at a grievance arbitration. Management was upset that her testimony supported the claims of the grievants, who were her subordinates. Some time afterwards, she was removed from her office, escorted out of the building by armed officers, and placed on paid administrative leave. She was eventually returned to active duty, but was demoted with a substantial pay cut.
The specifications against her included a charge that the arbitrator ruled in favor of the two subordinates that she had supported in the hearing, awarding them back pay of more than $20,500. "The arbitrator gave great weight to your opinion … [and] your inefficiency and neglect of duty as a supervisor has cost the Bureau over $20,500 in [backpay] and additional costs incurred for the [legal] counsel ..."
The union brought a charge against management, before the state employment board, alleging that the way Hawkins had been treated and her demotion were in retaliation for her arbitration testimony, and that such actions severely discriminate against and coerce union members in their exercise of their rights under the state law.
The union emphasized that the right to file grievances, without fear of retaliation against either them or their supporting witnesses, was impaired by management's retaliatory action.

The Employment Relations Board judge who heard the claim, agreed; he said:
"... under any circumstance, having one of their arbitration witnesses accused of a series of subjective improprieties, summarily marched out of the office by armed personnel, left in employment limbo for over three months, and then returned and demoted, unquestioningly creates a coercive effect on the remaining bargaining unit employees. ...

"The evidence is also clear that Hawkins was placed on [leave] and demoted (1) in a misguided attempt to stop future working-out-of-class grievances and/or (2) to punish those employees that had filed them in the past, and (3) to punish Hawkins for her support of the employees when she testified at the arbitration hearing."
Management was ordered to reinstate Hawkins to her prior position, to pay the salary she lost as a result of her unlawful demotion, plus interest and to restore all benefits she may have lost as a result of management's "unlawful action." Cal. State Employees Assn. v. Dept. of Consumer Affairs, #SA-CE-1385-S, 2004 PERC (LRP) Lexis 48, 28 PERC 98 (PERB 2004).
• Click here to view the decision on AELE's website.
• Return to the Contents menu.
•••• Editor's Case Alert ••••
Connecticut Supreme Court upholds a claim raised by a corrections officer's estate that he contracted HIV and died of AIDS as a result of his suppression of prison altercations.
A corrections officer in Connecticut was diagnosed with HIV in 1992 and died a year later as a result of AIDS. His estate sought death benefits from the Workers' Compensation Commission, alleging that the officer's contraction of HIV was caused by his contact with inmates at the facility.
The Commission found that HIV does not constitute an occupational disease for correction officers, and the estate appealed. The Connecticut Supreme Court reversed, holding:
"In the present case, we agree with the plaintiff that HIV is peculiar to and so distinctively associated with the correction officers' occupation ..."
The majority noted that the HIV rate of inmates is 1 in 20, while the rate among nonincarcerated individuals is 1 in 1500. An expert witness testified that the statistical HIV infection rate for splash incidents involving HIV infected blood is 0.09 percent, while the infection rate for needle stick injuries is 0.3 percent.
A splash incident occurs when the blood of an infected person comes into contact with the skin or mucus membranes of a noninfected individual, such as when a correction officer comes into contact with an infected inmate's blood while breaking up a fight.
The majority said:
"In the course of his employment, the decedent experienced numerous incidents when he could have come into contact with blood or other bodily secretions from inmates through splash incidents, or through other conduct by inmates that would bring the inmates' bodily fluids into contract with the decedent's skin or mucous membranes.

"Because the decedent was a member of the emergency response unit, one of his specific duties of employment was to break up altercations, riots, and other emergencies in which, through splash or other similar incidents, he could have come into contact with the blood and bodily secretions of inmates.

"Breaking up altercations and riots in an inmate population with an HIV infection level of 1 in 20, more than seventy times greater than the infection rate of the nonincarcerated population ..."
The majority concluded that the decedent's HIV infection was an occupational disease because his employment as a correction officer in the emergency response unit was "more likely to cause this disease than would other kinds of employment carried on under the same conditions."
Two justices dissented, noting that a splash incident is "substantially less likely to result in transmission of HIV than a needle stick, and emergency response correction officers are much less likely to contract HIV than health care workers."
Doe v. Dept. of Correction, #SC 16840, 268 Conn. 753, 2004 Conn. Lexis 191 (2004).
• Click here to view the decision on the Internet. [PDF]
• Return to the Contents menu.
Report non-working links here
Age Discrimination - Entry
Federal appeals court upholds maximum entry age of 32 for Boston police officers. Donohue v. City of Boston, #03-2227, 2004 U.S. App. Lexis 11204 (1st Cir. 2004).
Civil Service
The transfer of several functions from the Civil Service Cmsn. to the city's director of personnel was unlawful. The personnel director is not independent and the purpose of a Civil Service Cmsn. is to protect police department employees from the potential prejudices of management. Seattle Police Officers' Guild v. City of Seattle, #52042-3-I,89 P.3d 287, 2004 Wash. App. Lexis 832 (2004).
Disability Rights and Benefits - Hearing procedures and appeals
Employee's physician, who treated her for fibromyalgia and found her to be totally disabled, was entitled to deference, absent contrary evidence. Hatcher v. Barnhart, #03-3459, 2004 U.S. App. Lexis 10056 (8th Cir. 2004). [PDF]
Disciplinary Hearings - Untenured
Federal appeals court reverses a $333,820 verdict for race discrimination brought by a former city employee, and remands for a new trial the issue of damages incurred by plaintiff due to the City's failure to provide him with an adequate name-clearing hearing. Patterson v. City of Utica, #03-7285, U.S. App. Lexis 10722 (2d Cir. 2004). [PDF]
Disciplinary Investigations
Reversing a jury verdict, an appellate court finds that the defendants did not violate the First Amendment rights of a motor vehicle inspector by firing him for making persistent, false accusations of sexual harassment. The defendants were entitled to rely on the conclusions of the I-A investigations. Johnson v. State of Louisiana, #03-30087, 2004 U.S. App. Lexis 8840 (5th Cir. 2004). [PDF]
Disciplinary Offenses - In General
Airport authority did not commit unfair labor practice when it discharged an employee who brought a firearm in his vehicle to work, where possession of a firearm violated agency policies. Airport Auth. of Washoe Co. and Airport Auth. Emplees. Assn., 119 LA (BNA) 920, FMCS Case #03/12713 (Staudohar, 2004).
Family, Medical & Personal Leave
Supreme Court declines review of an appellate holding that management did not violate the FMLA or Title VII when it fired a city employee upon his return from leave, after concluding that his work product was poor. Phelan v. City of Chicago, #03-1209, cert. den. 2004 Lexis 2782 (2004); ruling below at 347 F.3d 679, 92 FEP Cases (BNA) 1389, 9 WH Cases2d (BNA) 7 (7th Cir. 2003).
First Amendment Related
First Circuit holds that police officials failed to demonstrate that they were entitled to qualified immunity from retaliation claims of investigators who claimed that they were discharged or denied benefits because of their investigation of government corruption. Rivera-Jiménez v. Pierluisi, #02-2439, 362 F.3d 87, 2004 U.S. App. Lexis 5773, 21 IER Cases (BNA) 160 (1st Cir. 2004).
Handicap Discrimination - Accommodation
The EEOC has ruled, in an advisory letter dated Apr. 29, 2004, that the ADA does not impose on employers a duty to dispose of used syringes of employees that must use them to treat medical conditions, such as diabetes. An employer also is not required to provide syringes used in the treatment of medical conditions because these are needed on and off the job, the EEOC said in another advisory letter dated Mar. 23, 2004. 42 (2059) G.E.R.R. (BNA) 474.
Injuries to Employees
New York's highest court reverses two verdicts won by the widows of slain NYPD officers totaling $1.4 million, and a third case involving an officer killed in crossfire. N.Y. state law offers a wrongful death remedy only under narrowly defined circumstances. Although public employers are obliged to provide a safe workplace, state law was not intended to impose specific requirements to eliminate the special risks of police work. Williams v. City of New York, #13, and McCormick v. City of New York, #56, 2004 N.Y. Lexis 1027 (2004). [PDF]
Pay Disputes - In General
Arbitrator refuses to enforce a side agreement to pay a police officer more than the wages indicated in the bargaining agreement. "The rights and remedies of a bargaining unit member with respect to wages derive solely from the terms of the collective bargaining agreement entered into between the employer and the representative union. An employer cannot enter into separate, private agreements with individual members of the bargaining unit where the effect of such agreements would be to contradict the terms of the collective bargaining agreement." Borough of Brentwood and Teamsters L-205, Pa. Bur. of Mediation #4195, 119 LA (BNA) 1020 (Dissen, 2003).
Racial Harassment
In a Title VII suit brought against the New York Div. of Military and Naval Affairs, alleging racially harassing and retaliatory actions by a National Guard superior while they were acting in their civilian capacities, the action was properly dismissed because the challenged conduct was integrally related to the military's unique structure and was therefore nonjusticiable. Overton v. N.Y., #03-6008, 2004 U.S. App. Lexis 10805 (2d Cir. 2004). [PDF]
Religious Discrimination
Supreme Court rejects appeal by a state trooper who refused assignment on a casino boat. Endres v. Indiana State Police, # 03-1183, cert. denied 124 S.Ct. 2032, 2004 U.S. Lexis 2778 (4/19/04); ruling below at 2003 U.S. App. Lexis 13027 (7th Cir. 2003) and in state court at 794 N.E.2d 1089, 2003 Ind. App. Lexis 1566. (2003).
Resignations
U.S. Supreme Court declines to review an Oklahoma appeals court ruling that concluded that a public employee's angry phone call to superiors, where she said she had "quit playing ball" and they could find another "flunky to pick on" could be interpreted as an oral resignation, and that she forfeited any further rights of due process. Burkhardt v. Oklahoma ex rel. Dept .of Rehab. Serv. (Unpub. Okla. App. 2003); cert. den. 2004 U.S. Lexis 3868, 72 U.S.L.W. 3732 (2004).
Retirement Rights and Benefits
Supreme Court holds that employers cannot reduce pensions for workers who retire early and then go to work somewhere else. In a unanimous ruling the justices held that ERISA [29 U.S. Code §1053(a)(3)(B)] protects against lowered benefits that take effect after a worker has retired -- in this case, the plaintiffs "retired" at age 39. Central Laborers' Pension Fund v. Heinz, #02-891, 2004 U.S. Lexis 4028 (2004).
Sex Discrimination - In General
FBI agent, who was disciplined because of a variance between electronic building records and her time sheets could maintain a suit for retaliation, based on a prior sex discrimination complaint. Velikonja v. Mueller, #03-0832, 2004 U.S. Dist. Lexis 6701 (D.D.C. 2004).
Sex Discrimination - Reverse Discrimination
Seventh Circuit affirms the dismissal of a reverse discrimination claim that the plaintiff was fired as a probationary Treasury Agent (for taking too long to complete assignments and exercising poor judgment) because he is a white male, while women agents were not disciplined for more egregious behavior. He was able to cite only a single instance of supposedly disparate treatment. Katerinos v. U.S., #02-3247, 2004 U.S. App. Lexis 9294, 93 FEP Cases (BNA) 1304 (7th Cir. 2004). [PDF]
Sexual Harassment - In General
Supreme Court holds that to establish "constructive discharge," a plaintiff alleging sexual harassment must show that the abusive working environment became so intolerable that her resignation qualified as a fitting response. Pennsylvania State Police v. Suders, #03-95, 2004 U.S. Lexis 4176 (2004).
Transfers - Disciplinary or Punitive
Federal appeals court rejects the retaliation lawsuit of a police lieutenant who claimed he was transferred to light duty because he gave negative testimony about the chief of police in another officer's civil rights trial. The lieutenant did not suffer an adverse employment action because his lost pay and benefits were retroactively restored. Mylett v. City of Corpus Christi, #03-40774, 2004 U.S. App. Lexis 8729 (5th Cir. 2004). [PDF]
Union and Associational Activity
Federal appeals court upholds an unfair labor practice charge against a city bus operator that, without resorting to the bargaining process, restricted the right of the union to post notices on the employer's bulletin boards. ATC v. NLRB, #03-3476, 2004 U.S. App. Lexis 10789 (7th Cir. 2004). [PDF]
• Return to the Contents menu.
Report non-working links here

RESOURCES
Job Classifications: Revised OPM Classification Standard for firefighters [GS-0081]. [PDF]
Personnel Practices: GAO report on the process used to hire entry-level and lateral transfer DoJ attorneys. No. GAO-04-665R, "Information on Selected Personnel Practices at the Justice Dept." [PDF]
Same Sex Marriages: Informational website of Freedom to Marry, a project of the Astraea Foundation, an organization of activists and lawyers that promote homosexual marriage rights.
Reference:
• Abbreviations of Law Reports, laws and agencies used in our publications.
• AELE's list of recently noted employment law resources.
• Discrimination Laws plus EEOC Regulations and Policy Guidance
CROSS REFERENCES
Featured Cases:
First Amendment Related - see: Union Activity
Physical Fitness Standards - see: Collective Barg. - Duty to Bargain
Psychological Exams - see: Homosexual & Transgendered Employee Rights
Unemployment Compensation Claims - see: E-Mail/Internet - Legal Issues
Noted in Brief:
First Amendment Related - see: Transfers
Handicap Discrimination - see: Disability Rights and Benefits
Return to the Contents menu.
Return to the monthly publications menu
Access the multiyear Employment Law Case Digest
List of links to court websites
Report non-working links here.

© Copyright 2004 by A.E.L.E., Inc.
Contents (or partial contents) may be downloaded,
stored, printed or copied by, or shared with, employees of
the same firm or government entity that subscribes to
this library, but may not be sent to, or shared with others.
Report non-working links here.