© Copyright 2005 by A.E.L.E., Inc.
Contents (or partial contents) may be downloaded,
stored, printed or copied by, or shared with, employees of
the same firm or government entity that subscribes to
this library, but may not be sent to, or shared with others.
Best viewed with Microsoft Internet Explorer 5+



An employment law publication for law enforcement,
corrections and the fire/EMT services,
ISSN 0164-6397
Cite this issue as:
2005 FP Apr (web edit.)
Click here to view information on the editor of this publication.
Return to the monthly publications menu
Access the multiyear Employment Law Case Digest
Report non-working links here
Some links are to PDF files
Adobe Reader™ must be used to view content
Civil Service
Disability Benefits: presumption laws
Disciplinary Interviews - Weingarten Rights
Disciplinary Investigations
Disciplinary Punishment - General
Disciplinary Punishment - Disparate Treatment
First Amendment Related
Hairstyle and Appearance Regulations
Interagency Conflicts
Psychological Exams - Privacy
Reductions in Force
Retaliatory Personnel Action
AIDS/HIV Testing
Arbitration Procedures
Attorneys' Fees and Legal Defense Rights
Criminal Liability
Disciplinary Appeals & Challenges
Disciplinary Punishment - General
Disciplinary Punishment - Disparate Treatment
Employee Harassment - Nonsexual
Handicap Discrimination - Psychiatric
Handicap Discrimination - Specific Disabilities
Heart Problems
Homosexual & Transgendered Employee Rights
Product Liability
Promotional Rights
Race Discrimination
Reductions in Force
Releases & Waivers
Retaliatory Personnel Action (2 cases)
Union Activity
Veterans Preference Laws

FEATURED CASES & ITEMS
WITH LINKS TO THE OPINIONS OR DOCUMENT
Report non-working links here
Dept. of Homeland Security and the Office of Personnel Management issue regulations to establish a new human resources management system.
The Final Rules govern basic pay, classification, performance management, labor relations, adverse actions, and employee appeals. They establish a pay-for-performance system that will do away with guaranteed annual increases for DHS employees. They also significantly narrow management's duty to engage in collective bargaining with unions over changes to employee work rules and conditions.
The performance pay system replaces the current General Schedule with a series of occupational clusters and pay bands. Management is authorized to set and adjust minimum and maximum rates of pay for each band associated with a cluster. Under this new system, pay increases will be based solely on performance -- not time in grade.

The Final Rules also provide guidance as to what constitutes a "Mandatory Removal Offense," which includes aiding or abetting terrorism, intentionally allowing the improper entry of individuals to the U.S. who might compromise homeland security, taking bribes in exchange for compromising security, and intentionally divulging law enforcement-sensitive or confidential information to unauthorized persons, subject to the applicable whistleblower and free speech protections.
The rules make it easier for supervisors to take action against employees for misconduct and poor job performance. They are effective as of March 3, 2005. Various unions, including the American Federation of Government Employees and the National Treasury Employees Union, have filed a lawsuit in Washington to halt implementation of the new rule.
The suit claims that the rules are invalid because they impose new duties and rules of operation on the Federal Labor Relations Authority and the Merit Systems Protections Board, both of which are independent agencies and are therefore beyond any jurisdiction granted to the DHS by the law creating it. N.T.E.U. v. Ridge, #1:05-CV-00201, complaint filed (D.D.C. 1/27/05). [PDF]
Dept. of Homeland Security Human Resources Management System: Final Rule, 70 (20) Fed. Reg. 5271-5347 (Pub. Feb. 1, 2005).
• Click here to view the rule in the Federal Register.
• Click here to see the Comptroller General's Testimony before a U.S. Senate Subcommittee, "Preliminary Observations on Final Dept. of Homeland Security Human Capital Regulations," Report No. GAO-05-320T (Feb. 10, 2005).
• Return to the Contents menu.
Disability Rights and Benefits - Heart, lung and presumption laws
California appellate court sustains a job-related benefits claim by a police officer who contracted cancer. The burden of showing that the illness did not arise from his employment fell on the city.
Under California Labor Code §3212.1,1 (1999) peace officers and firefighters who contract cancer are entitled to duty-related benefits if they were exposed to known carcinogens during the course of their employment. To defeat that claim, an employer must prove the absence of a reasonable link between the cancer and the occupational exposure to the carcinogen.
A Long Beach police officer contracted kidney cancer during his employment. A workers' compensation judge found it arose out of and in the course of his employment and awarded him benefits. The city appealed.
The evidence showed that the officer had been exposed to asbestos while working in an old police station, vehicle exhaust, spills, and drug laboratories. Additionally, he pumped gasoline into his patrol vehicle almost daily. He had no history of any risk factors for carcinoma outside the workplace.
A three-judge appellate court affirmed the award, noting that the Legislature was concerned with the unfairness to firefighters and officers who were denied benefits because it was not possible to prove the genesis of the cancer. The said:
"If we were to hold that the employer met its burden ... merely by showing the absence of medical studies or other evidence connecting a particular carcinogen with a particular cancer, the practical effect would be to shift the burden of proof back to the employee ...

"... the Legislature has made a policy decision that, when it is not possible to determine whether the carcinogenic exposure caused the cancer, the employer, not the employee, should bear the burden of the ambiguity."
City of Long Beach v. W.C.A.B., #B173437, 126 Cal.App.4th 298, 23 Cal.Rptr.3d 782, 2005 Cal. App. Lexis 127 (2d App. Dist. 2005).
• Click here to view the opinion on the Internet. [PDF]
• Return to the Contents menu.
Disciplinary Interviews & Compelled Reports - Weingarten Rights
Arbitrator reduces a termination to a demotion, with loss of back pay, and salary reduction for a police civilian employee who was untruthful at an interview. Management failed to provide her with the assistance of a union representative at an official interview.
In 2002, Maryland police officers had a warrant for a man who poured gasoline over his girlfriend's body and set her on fire. The suspect was an acquaintance of the grievant, a civilian employee of the county police dept.
The grievant was charged criminally with harboring a fugitive, but was acquitted of the offense in court. Management then fired her for three offenses:
1. On Sep. 23, 2002, she intentionally misrepresented key facts about the suspect's whereabouts to a detective during an official interview.

2. On Sep. 24, 2002, she drove the suspect from Maryland to the District of Columbia while he was avoiding apprehension.

3. On Jan. 15, 2003, she lied when she said she had not been informed at the Sep. 23 interview that the suspect was wanted for a felony.
The termination was reviewed by arbitration. The union claimed that management violated Article 8 of the collective bargaining agreement when it interviewed the grievant on Sep. 23, 2002, without the presence of a union representation.
The arbitrator annulled the punishment. First, a higher level of proof is required where the alleged misconduct is recognized and treated as a crime. Her acquittal was admissible, and management failed to prove that she knowingly helped a fugitive.
He sustained the untruthfulness charges, saying:
"The charges are serious, particularly given the nature of the grievant's job as a public safety aide in a police department. She occupied a position of public trust, which required truthfulness, respect and honesty at all times, not only to her supervisors but to the public at large."
However, he found that the grievant was entitled to the presence of a union representative at the Sep. 23rd interview, which right was ignored. When that omission is considered with her more than twenty years of county service, termination was not warranted. Section 16-195 of the County Personnel Law requires that prior to taking any conduct-related disciplinary action, one must consider "extenuating circumstances" which may mitigate against the taking of a particular action against an employee.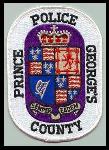 The arbitrator ordered her reinstatement, without back pay for more than six months, and accompanied by a demotion and pay cut of ten percent. "The Department's denial of union representation to the grievant in the initial interview was also a determining factor in the decision to demote, and not terminate, the grievant."
Prince George's County and PGC Police Civilian Employees Assn., AAA Case #16-390-00381-04, 120 LA (BNA) 682 (Smith, 2004).
• Click here to view the opinion on the AELE website.
Editor's Comment: Only a few decisions have concluded that a procedural failure during an interview requires the suppression of a statement. Watson v. Co. of Riverside, 976 F.Supp. 951 (C.D.Cal. 1997); Williams v. City of Los Angeles, 47 Cal.3d 195, 763 P.2d 480 (1988); Cymbalsky v. Dilworth, 467 N.Y.S.2d 902 (A.D. 1983); Conwell v. City of Albuquerque, 637 P.2d 567 (N.M. 1981).
The arbitrator in this case did not attempt to exclude the grievant's statements, but did find that the effect should be mitigated because of the absence of a union rep. He also hedged when he cited her acquittal, by saying that management also did not prove the charge with a preponderance of evidence.
• Return to the Contents menu.
•••• Editor's Case Alert ••••
Although it may have been improper for a superior to ask two subordinates to assist him in setting up another corrections officer suspected of smuggling contraband to inmates, the initiation of disciplinary charges for refusing to cooperate in an internal investigation were not arbitrary, and the superior and others were entitled to a summary dismissal of a civil rights suit filed by the officers.
The commander of a county corrections special investigations unit was investigating a corrections officer suspected of smuggling contraband to inmates. The commander requested that two officers assist him. At first the officers agreed to help, but later they refused to assist in the investigation.
The commander had asked the officers to deliver money and a recording device to an inmate. The one, a captain, said he no longer wanted to assist in the investigation. The other officer, a sergeant, also refused to assist, in part because he did not want to bring contraband into the facility.
The two were later charged with failing to cooperate in an internal investigation. The charges later were withdrawn, and the two filed a federal civil suit alleging civil rights violations.
The trial judge declined to dismiss the suit, noting that "no reasonable commander could believe the rule permits issuing an order for undercover activity by a corrections officer. He said there was "no legitimate basis for the order." Moreover, if the evidence at trial shows that the plaintiffs were selectively treated they could recover damages for an Equal Protection violation.
Management appealed, and a three-judge panel reversed. The panel said:
"... the Equal Protection Clause bars the government from selective adverse treatment of individuals compared with other similarly situated individuals if such selective treatment was based on impermissible considerations such as race, religion, intent to inhibit or punish the exercise of constitutional rights, or malicious or bad faith intent to injure a person.

"... plaintiffs cannot establish that defendants acted out of any personal dislike of them. In substantiating their claim that the disciplinary charges were motivated by malice, plaintiffs rely first on evidence that [the commander] became angry at plaintiffs at various points during the contraband investigation."
The panel said the commander grew angry because he wanted the investigation to succeed. "Such a motivation ... does not implicate the Equal Protection Clause."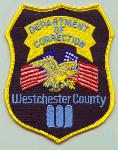 The initiation of disciplinary charges against the officers was not arbitrary or malicious. It was to punish the officers for refusing to assist in the investigation and to deter other officers from similarly refusing to assist in internal investigations.
Because the officers failed to raise a valid substantive equal protection violation, the individual defendants were entitled to summary judgment. Bizzarro v. Miranda, #03-9047, 394 F.3d 82, 2005 U.S. App. Lexis 258 (2nd Cir. 2004).
• Click here to view the opinion on the Internet. [PDF]
Editor's Note: Whether an employee can be required by I-A personnel to help "set up" a coworker is not a subject that has been litigated frequently. If the employee is a member of a bargaining unit, it probably is an "Out of Title" assignment and a mandatory subject for collective bargaining. However, an employee refuses at his peril, because the general rule is to obey a questionable order, and then file a grievance.
"The work place is not a debating society," Ford Motor Company, 3 LA (BNA) 779(Shulman, 1944). "The well-established common law of the workplace is for employees to obey now and grieve later," unless compliance would pose a significant risk to the employee's safety or the safety of others" or raise a conflict of interest. Lawrence County and AFSCME L-3319, 115 LA (BNA) 435, FMCS Case #000724/09906-6 (Imundo, 2000); see also, Elkouri, How Arbitration Works, pp. 263, 1023 (6th edit. 2003).
Moreover, when an employee elects to disobey an order, he or she has a responsibility to tell the persons who gave the order the reason for the refusal. Lawrence County.
• Return to the Contents menu.
Appellate court sustains termination of an officer who failed to report that he used his knee on the back of a resisting driver. Reviewing courts should not set aside penalties without a showing of bias or bad faith.
After a vehicle pursuit, a cruiser video showed a police officer leaning on the driver with his knee on his back. The officer failed to file a use of force report; in the incident report he made no mention of any physical contact with the driver.
At a subsequent I-A investigation, he admitted that he put his knee on the suspect at least a couple of times, but once he realized the driver was handcuffed, he "got up off of him." The chief fired the officer for unnecessary use of force and for not reporting the use of physical force. A five-judge appellate panel affirmed, 3-to-2, explaining:
"As a court of appeal, we are bound to the record before us and cannot set aside a trial court's finding of fact absent manifest error. ... It appears that reasonable minds could differ on what the videotape showed. While the punishment may be harsh, Officer Brown had to prove to the Board that it was meted out to him in bad faith, presumably because other officers routinely do these and other similar violations and were not discharged. This was not the case ..."
A dissenting judge said the video did not show that that the force was unreasonable, but the officer's failure to report the use of force was deliberate. However, he thought that termination was too severe a penalty.
The second dissenting judge said that termination is "far too harsh for an officer with no prior disciplinary history." Brown v. City of Bossier City, #38,915-CA, 887 So.2d 731, 2004 La. App. Lexis 2779 (2nd App. Dist. 2004).
• Click here to read the decision on the Internet. [PDF]
• Return to the Contents menu.
•••• Editor's Case Alert ••••
Two white California police officers are awarded over $2.4 million because the discipline they received, after a widely-seen videotape of their arrest of a black teenager, was found discriminatory. A black officer involved in the incident had received lesser punishment.
One white officer was videotaped slamming a black male teen onto the hood of an automobile. He was fired for using excessive force. He and another officer sued claiming disparate treatment because of their race.
Two years later, a civil jury awarded him $162,818 for past economic loss, $1,174,797 for future economic loss, and $273,750 for past and future non-economic losses -- a total of $1,611,365.
Another white officer was suspended for ten days for failure to report the alleged excessive use of force. The jury awarded him $22,889 for past economic loss, $713,905 for future economic loss, and $74,000 for past and future non-economic losses -- for a total $810,794.
The plaintiffs believed that their harsh punishments were based on race because a black officer, who hit the teen with his flashlight and failed to report his use of force, received only a four-day suspension.
Two criminal juries deadlocked on whether the videotaped images of an officer slamming the teenager onto his cruiser and punching him in the face constituted a crime.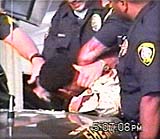 The civil jury voted 11-to-1 in favor of the verdict. Judge William F. Fahey thanked the jury and excused them. Morse v. Inglewood, L.A. Co. Super. Ct., #BC290309, 43 (2095) G.E.R.R. (BNA) 164 (Verdict Jan. 18, 2005).
• Click here to view the Official Minutes of the verdict on the AELE website. [PDF]
• Return to the Contents menu.
Federal court upholds a gubernatorial order banning state workers from giving interviews to two Baltimore reporters. Publishers and journalists have no greater rights to access than members of the public.
The Governor of Maryland sent a memo to state public information offices prohibiting state employees from talking to two reporters from the Baltimore Sun. However, statutory Public Information Act requests would be honored. The newspaper sued in federal court, raising the First Amendment.
The judge wrote that a journalist has no legal right to have equal access to public information sources or to be treated the same as other journalists, citing Snyder v. Ringgold, #97-1358, 1998 WL 13528, 1998 U.S. App. Lexis 562, 26 Media L. Rep. 1249 (Unpub. 4th Cir. 1998).
"As the First and Fourteenth Amendments are currently understood in this Circuit, a government may lawfully make content-based distinctions in the way it provides press access to information not available to the public generally."
The judge quoted a Supreme Court decision that held that "the rights of the news media ... are co-extensive with and do not exceed those rights of the members of the public in general. Branzburg v. Hayes, 408 U.S. 665, at 684-85 (1972). The judge then added:
"The Sun seeks a privileged status beyond that of the private citizen; that desire is not a cognizable basis for injunctive relief. As the Sun can demonstrate neither irreparable harm nor the likelihood of success on the merits, its motion for a preliminary injunction must be denied."
The Sun v. Ehrlich, #1:04-cv-03822, 2005 U.S. Dist. Lexis 2082 (D.Md. 2005).
• Click here to view the opinion on the AELE website. [PDF]
• Return to the Contents menu.
Army reissues its regulations for hairstyles, jewelry, piercings and tattoos in light of extreme fashion trends.
The following is a summary of portions of the 362-page revised regulations, which apply to uniform and civilian attire:
Hair color: The regulations prohibit the use of dyes, tints, or bleaches that detract from a professional appearance, such as purple, blue, pink, green, orange, fire-engine red, and fluorescent or neon colors.
Lipstick and nail polish: Extreme colors are banned, such as purple, gold, blue, black, white, fire-engine red, khaki, camouflage colors, and fluorescent colors. Nails cannot have designs or multi-tone colors.
Tattoos: Tattoos or brands cannot be on the head, face, or neck. They cannot be vulgar, indecent, sexist, racist or "incite libidinous thoughts."
Body piercing: Piercings are prohibited, whether on the skin, tongue, lips, inside the mouth, or other surfaces of the body not readily visible).

Jewelry: Adornments are limited to a wristwatch, a wrist ID bracelet, a tie-tack or clasp, and two rings (a wedding set is considered one ring).
Earrings: Women may wear screw-on, clip-on, or post-type earrings, in gold, silver, white pearl, or diamond, not exceeding 6 mm in diameter. They must be unadorned and spherical, and fit snugly against the ear. Women may wear earrings only as a matched pair, with only one earring per ear lobe.
Ankle wear: Bracelets, necklaces, medallions, amulets, personal talismans and icons are prohibited.
• Click here to read pertinent portions of AR 670-1 on the AELE website. [PDF]
• Return to the Contents menu.
Federal appeals court concludes that local law enforcement cannot prohibit tribal police cars from using flashing lights and sirens on state and county roadways, when responding to emergency calls on noncontiguous reservation lands.
Indian Territories have sovereign nation status, and are exempt from property and business taxation and regulation by state, county and local governments. Because of the recent explosion of hotels and casinos on reservations, there has been a lack of intergovernmental cooperation in many places.
The tribes refuse to waive their sovereignty, and state law enforcement agencies have denied them access to computerized criminal history checks, or vehicle and driver registration data.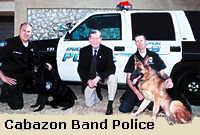 In California, the Inyo County Sheriff's Office repeatedly stopped and cited the tribal police officers for violating California's Vehicle Code whenever the officers traveled on nonreservation roads to respond to emergency calls from different portions of the reservation. Tribal officers had to stop, cover their lightbars, and travel as ordinary vehicles.
The tribe filed suit in federal court, but were denied relief. On appeal, the tribe argued that prohibiting its emergency vehicles from displaying emergency light bars created an undue burden on its ability to perform on-reservation law enforcement functions.
A three-judge appeals panel agreed. Reversing the lower court, the panel concluded that applying the light bar prohibition to tribal police vehicles was discriminatory, and also impaired public safety. They wrote:
"On one occasion, the Sheriff's office stopped and detained an officer for twelve minutes because his vehicle's emergency lights were activated while traveling on nonreservation lands. At the time he was stopped, the officer was responding to a life-threatening emergency in which an individual died.

"While it cannot be known whether the individual would have lived had help arrived sooner, it is clear that a tribal police officer was prevented from responding to an emergency situation in a prompt manner because of the light bar issue."
The panel noted that the responding tribal officers had completed California peace officer training and were deputized by the Bureau of Indian Affairs as federal officers.
"Every law enforcement jurisdiction shares the same obligation and purpose: to protect and to serve their respective communities and citizens. We agree with the BIA that the boundaries of Indian country should not impede tribal officers' travel, use of marked vehicles, emergency response, or other aspects of their policing authority necessary to meet the officers' law enforcement obligations to their reservation community."
Cabazon Band of Mission Indians v. Smith, #02-56943, 388 F.3d 691, 2004 U.S. App. Lexis 22772 (9th Cir. 2004).
• Click here to view the opinion on the Internet. [PDF]
• Click here to read Cabazon Tribal information.
• Return to the Contents menu.
Psychological Exams and Standards - Use of, or Disclosure of the Results & Privacy
Federal appeals court rejects the claim that an employer-mandated psychological exam is a Fourth Amendment intrusion; privacy invasion claims should be filed in state, not federal court.
Two years after the plaintiff was hired by the Indiana Department of Corrections as a research analyst, she was told that to keep her job she would have to submit to a psychological examination.
The record is silent about the reason for ordering the test, but she complied and sued under §1983 seeking damages and to expunge the results from her personnel file.
The two-hour test allegedly inquired into details of her personal life. She claimed the test was an unreasonable search in violation of her Fourth Amendment, invaded her privacy and deliberately inflicted emotional distress.
The District Court rejected her claims; the Seventh Circuit affirmed, writing:
"... we do not think that the Fourth Amendment should be interpreted to reach the putting of questions to a person, even when the questions are skillfully designed to elicit what most people would regard as highly personal private information.

"The implications of extending the doctrine [expressed in past privacy] cases to one involving mere questioning would be strange. * * * Police might have to obtain search warrants or waivers before conducting routine inquiries, even of the complaining witness in a rape case, since they would be inquiring about the witness's sexual behavior. * * *

"Psychological tests, widely used in a variety of sensitive employments, would be deemed forbidden by the Constitution if a judge thought them unreasonable."
The panel said that states are free to protect privacy more comprehensively than the Fourth Amendment requires and the plaintiff "is free to continue to press her state-law claims in state court, where they belong."
The panel noted that Indiana has thus far refused to recognize claims of this type. However, the Fourth Amendment does not expand like an accordion to fill what may be a gap in the privacy law of a particular state.
In affirming the dismissal by the trial court, the panel said that the "Fourth Amendment does not provide a remedy for the unpleasantness of being subjected to a psychological test." Greenawalt v. Indiana Dept. of Corrections, #04-1997, 397 F.3d 587, 2005 U.S. App. Lexis 2384 (7th Cir. 2005), affirming 2004 U.S. Dist. Lexis 6739 (S.D. Ind.). [PDF]
• Click here to view the opinion on the Internet. [PDF]
• Return to the Contents menu.
Federal appeals court holds that public employees who are furloughed for economic reasons are entitled to a Loudermill hearing, if they are selected for reasons of job performance rather than seniority.
A three-judge panel reviewed the termination of two assistant court clerks. They said that if those selected for layoff had been chosen entirely based on factors unrelated to personal performance -- for example, seniority or job location -- a pretermination hearing would not be required.
They noted that "performance factors played a role in [the plaintiff's] selection for layoff." Individualized considerations took on even greater significance when the plaintiff was passed over in favor of someone with considerably less experience. The panel said:
"... it seems inescapable that [the plaintiff's] job performance was a deciding factor in his selection. ...Consequently, we conclude that [the plaintiff] had a right to the minimal procedural protections of notice and an opportunity to respond.
"As the Supreme Court has observed, the requisite procedures need not be elaborate ... and the opportunity to hear and respond to the employer's reasons could be accomplished either in writing or in an informal face-to-face meeting."
Whalen v. Mass. Trial Court, #04-1976, 397 F.3d 19, 2005 U.S. App. Lexis 1829 (1st Cir. 2005).
• Click here to view the opinion on the Internet.
• Return to the Contents menu.
Second Circuit allows an officer to sue for coworker harassment, in retaliation for her causing another employee to get fired. Management was aware of the behavior and allegedly did nothing to stop it.
A woman parking enforcement officer complained of sexual harassment by a male coworker. After the offender was fired, other employees began a campaign of harassment. The District Court gave the city a summary judgment. A three-judge appellate panel has reversed.
The First Circuit explained that an employer's liability for coworker retaliation "depends on whether there is sufficient evidence to permit a finding that the employer knew or should have known about the hostile work environment, yet failed to stop it." They added:
"The very act of filing a charge against a coworker will invariably cause tension and result in a less agreeable workplace. ... Although admittedly a source of unpleasantness in the workplace, such behavior should not be seen as contributing to a retaliatory hostile work environment."
However, the panel concluded that the harassment was substantial enough to warrant judicial relief and that there was sufficient evidence of employer neglect. One supervisor "did not deal with the plaintiff's complaints at all" and the other, "rather than rectifying the situation, speculated that the harassment would likely become ten times worse ..."
Noting that the deputy commissioner was aware of the harassment, but did nothing to dispel it, the case was remanded for trial. Noviello v. City of Boston, #04-1719, 2005 U.S. App. Lexis 2664 (1st Cir. 2005).
• Click here to view the opinion on the Internet.
• Return to the Contents menu.
Report non-working links here

NOTED IN BRIEF
(SOME WITH LINKS)
AIDS/HIV Testing
Second Circuit concludes that in response to a public employee's FMLA request for leave, a city could inquire as to his HIV lab tests. Gajda v. M&B Transit Auth., #04-0608, 396 F.3d 187, 16 AD Cases (BNA) 645, 2005 U.S. App. Lexis 1095 (2nd Cir 2005).
Arbitration Procedures
An arbitration award, where the arbitrator cited language in his decision that cannot be found in the bargaining agreement, should be upheld if the inclusion does not fatally taint the balance of the arbitrator's decision. Brentwood Med. Assn. v. UMW, # 04-1955, 396 F.3d 237, 176 LRRM (BNA) 2594 (3d Cir. 2005). [PDF]
Attorneys' Fees and Legal Defense Rights
Missouri Supreme Court concludes that the Metropolitan Police Dept. of the City of St. Louis is a state agency, that the attorney general has a duty to defend all lawsuits and that the state is obliged to pay all judgments. Smith v. State of Missouri, #SC86050, 152 S.W.3d 281, 2005 Mo. Lexis 5 (2005).
Criminal Liability
Los Angeles District Attorney decides not to charge a LAPD officer who struck a motorist 11 times with a flashlight. Charge Evaluation Report #04-0620R (Feb. 3, 2005). [PDF]
Palm Beach County (Florida) deputy sheriff convicted of taking money from motorists. Under a plea agreement, the defendant paid restitution to the six victims and relinquished his Florida law enforcement certification. U.S. v. James Tackticos (S.D. Fla. 2005).
Disciplinary Appeals & Challenges - In General
Park ranger could not raise post-traumatic stress disorder as a defense to misconduct at the appellate level, when he failed to raise it in the trial court. Cummings v. Norton, #03-4280, 393 F.3d 1186, 2005 U.S. App. Lexis 62, 16 AD Cases (BNA) 550 (10th Cir. 2005). [PDF]
Disciplinary Punishment - In General
Federal appeals court affirms the decision of the MSPB and DEA to fire an intelligence analyst after she repeatedly provided sensitive agency information to an outside attorney. Neal v. Dept. of Justice, #04-3093, 2004 U.S. App. Lexis 27177 (Unpub. Fed. Cir. 2004). [PDF]
Disciplinary Punishment - Disparate Treatment
Oregon appeals court upholds a discriminatory treatment claim of a probation officer who was fired, decertified, and denied a favorable employment recommendation for having an intimate relation with a probationer. A male officer was allowed to resign, was not decertified and was promised a favorable job recommendation. Gibson v. Douglas County, #A122383, 106 P.3d 151, 2005 Ore. App. Lexis 91 (Ore. App. 2005).
Employee Harassment - Nonsexual
Allegations by a disabled court employee, who claimed to have physical and mental impairments, that her superior "interrupted her, criticized her work, spoke to her in a rude and condescending way, yelled at her, got uncomfortably close to her, and behaved angrily toward her" created a triable issue as to whether the behavior created a hostile work environment; a summary judgment for the defendants was reversed. Carnes v. Superior Court of Placer County, #C045867, 126 Cal.App.4th 688, 23 Cal.Rptr.3d 915, 2005 Cal. App. Lexis 192 (3rd App. Dist. 2005). [PDF]
Handicap Laws / Abilities Discrimination - Psychiatric
Seventh Circuit affirms a summary judgment for the employer in Rehabilitation Act of 1973 action alleging that the plaintiff's supervisor created a hostile environment due to the plaintiff's paranoia and retaliated against her by failing to give her overtime because she had filed two prior EEOC charges. Derogatory remarks by the supervisor to others about the plaintiff's mental condition was insufficient to establish a hostile environment. Mannie v. Potter, #03-4340, 394 F.3d 977, 16 AD Cases (BNA) 641, 2005 U.S. App. Lexis 1021 (7th Cir. 2005). [PDF]
Handicap Laws / Abilities Discrimination - Specific Disabilities
A woman employee with ovarian cysts, which resulted in the occasional need to sit down because of pain, and the occasional inability to come to work because of dizziness, was not disabled under the ADA. Her condition, at most, caused difficulties in performing a particular job and did not affect the major life activity of working. Guzman-Rosario v. U.P.S., #04-1046, 397 F.3d 6, 2005 U.S. App. Lexis 1730 (1st Cir. 2005).
Heart Problems
The National Institute for Occupational Safety and Health has recommended in a fatality report, that fire departments should provide, consistent with NFPA 1582, mandatory annual medical evaluations to all fire fighters. It also said that exercise stress tests should be required for all firefighters with two or more risk factors for coronary artery disease, and to test carboxyhemoglobin levels as soon as possible on symptomatic or unresponsive firefighters exposed to smoke. "
Homosexual & Transgendered Employee Rights
Illinois becomes the 15th state to extend civil rights protection for gay and lesbian citizens. Senate Bill 3186, amending the Illinois Human Rights Act, 775 ILCS (Jan. 21, 2005). Chicago has long included sexual orientation as a protected status. The statute only prohibits discrimination, and does not mandate rights for domestic partners. Ten states provide domestic partner benefits for their state employees.
Product Liability
Tribal court lacks jurisdiction over a product liability suit against the manufacturer of a Navajo police SUV, arising out of a fatal rollover on the reservation. Ford Motor Co. v. Todecheene, #02-17048, 394 F.3d 1170, 2005 U.S. App. Lexis 398 (9th Cir. 2005). [PDF]
Promotional Rights, Procedures and Performance Appraisals
After two years of negotiations over a change in firefighter promotion procedures, the union was entitled to a writ of mandate compelling arbitration; appellate court rejects the city's argument, that to ensure compliance with antidiscrimination laws, arbitration was excused. San Fran. Fire Fighters L-798 v. City of San Fran., #A104822, 125 Cal.App.4th 1307, 23 Cal.Rptr.3d 364, 2005 Cal. App. Lexis 69 (1st App. Dist. 2005). [PDF]
Race Discrimination - In General
Louisiana appeals court affirms verdicts for two black former Baton Rouge police officers. Each was awarded $300,000 for racial harassment and $200,000 for racial discrimination; one also received $50,000 for retaliation. Alcorn v. Baton Rouge, #2002-CA-0952-R, 2004 La. App. Lexis 3202 (2004). [PDF]
Reductions in Force
Although some courts have found that pre-termination hearings are unnecessary in the case of financial layoffs, they have underscored the importance of adequate post-termination reviews for furloughed employees. Finding that the county's post-termination procedures lacked minimal standards of due process, the appellate court affirmed a national origin discrimination claim and remanded the case for the assessment of damages. Lalvani v. Cook County, #03-1922, 396 F.3d 911, 2005 U.S. App. Lexis 1716 (7th Cir. 2005). [PDF]
Releases & Waivers
State was not obliged to pay an agreed settlement for sexual harassment claims when the plaintiff failed to disclose that she had filed a second lawsuit, alleging similar actions, while negotiating the settlement. Chavez v. State of New Mexico, #02-2224, 2005 U.S. App. Lexis 1656 (10th Cir. 2005).
Retaliatory Personnel Action
The reasons for terminating a police canine officer were legitimate, and because more than seven months had passed since he raised an overtime claim under the FLSA, there was no proof the city retaliated against him for filing an overtime lawsuit. Grey v. City of Oak Grove, Mo., #03-3532, 396 F.3d 1031, 10 WH Cases 2d (BNA) 495, 2005 U.S. App. Lexis 1453 (8th Cir. 2005). [PDF]
Although the plaintiff-corrections officer was reassigned to a highly undesirable position after she filed a sexual harassment complaint, her suit for retaliation must fail because it was not a tangible adverse personnel action. Jones v. Dist. of Columbia, #00-2140, 346 F.Supp.2d 25, 2004 U.S. Dist. Lexis 23304 (D.D.C. 2004).
Union and Associational Activity
Former President of the Broward County (Florida) Federation of Public and Private Employees sentenced to 82 months in federal prison for receiving $600,000 in payoffs and union funds. The union represented various school, correctional and port employees. U.S. v. Browne, (S.D. Fla. 2005).
Veterans and Other Preference Laws
Under 5 U.S. Code §2108(2), anyone who is receiving compensation for a service-connected disability is a "disabled veteran" for eligibility preferences. Vann v. Merit Systems Prot. Bd., #04-3046, 2004 U.S. App. Lexis 25944 (Fed. Cir. 2004).
• Return to the Contents menu.
Report non-working links here

RESOURCES
Bioterrorism: Army Regulation 380-86, Chemical Warfare, Chemical and Biological Defense, and Nuclear, Biological, Chemical Contamination Survivability Information, declassified Feb. 1, 2005. [PDF]
Fiscal: Dept. of Homeland Security FY 2006 Budget and Dept. of Justice FY 2006 Budget request press release.
Privacy: Federal Spending on Surveillance webpage.
Taxation: IRS website has links to publications and forms with tax information for armed services members.
Reference:
• Abbreviations of Law Reports, laws and agencies used in our publications.
• AELE's list of recently noted employment law resources.
• Discrimination Laws plus EEOC Regulations and Policy Guidance

Collective Bargaining/Duty to Bargain - see: Civil Service
Disciplinary Appeals - see: Disciplinary Punishment/General
Disciplinary Punishment - see: Disciplinary Interviews/Weingarten
Discovery, Publicity and Media Rights - see: First Amendment Related
Uniforms, Clothing - see: Hairstyle & Appearance Regs.
Workers Comp. - see: Disability Benefits
Noted in Brief:
Arbitration Procedures - see: Promotional Rights
Criminal Liability - see: Union Activity
FLSA Overtime Claims - see: Retaliatory Personnel Action
Return to the Contents menu.
Return to the monthly publications menu
Access the multiyear Employment Law Case Digest
List of links to court websites
Report non-working links here.

© Copyright 2005 by A.E.L.E., Inc.
Contents (or partial contents) may be downloaded,
stored, printed or copied by, or shared with, employees of
the same firm or government entity that subscribes to
this library, but may not be sent to, or shared with others.