© Copyright 2006 by A.E.L.E., Inc.
Contents (or partial contents) may be downloaded,
stored, printed or copied by, or shared with, employees of
the same firm or government entity that subscribes to
this library, but may not be sent to, or shared with others.
Best viewed with Microsoft Internet Explorer 5+



An employment law publication for law enforcement,
corrections and the fire/EMT services,
ISSN 0164-6397
Cite this issue as:
2006 FP Jan (web edit.)
Click here to view information on the editor of this publication.
Return to the monthly publications menu
Access the multiyear Employment Law Case Digest
Report non-working links here
Some links are to PDF files
Adobe Reader™ must be used to view content
Featured Cases – with Links
Disciplinary Punishment
Domestic Partner Rights
Employee Harassment - Nonsexual
FLSA - Overtime
Fraternization Prohibitions
Job Classification Rights
Jurisdictional Disputes & Work Erosion
Religious Discrimination
Sexual Harassment - Suits Against the Union
Suspensions
Age Discrimination
Collective Bargaining - Duty to Bargain
Criminal Liability
Defamation
Disciplinary Investigations
Disciplinary Surveillance
FLSA - Executive Exemptions
Family Leave (2 items)
Handicap Discrimination - Constitutionality
Homosexual & Transgendered Employee Rights (2 items)
Pay Disputes
Political Activity/Patronage Employment
Race Discrimination
Retaliatory Personnel Action (2 cases)
Retirement Rights and Benefits
Sexual Harassment - Same Gender
Suspensions
Untruthfulness & Resume Fraud
Whistleblower Protection (3 items)
Workers' Compensation
FEATURED CASES & ITEMS
WITH LINKS TO THE OPINIONS OR DOCUMENT
Report non-working links here
Arbitrator sustains the demotion of a sergeant who berated a dispatcher. A supervisor may be held to a higher standard of behavior because the chief "had lost confidence in the grievant's ability to serve as a shift supervisor."
A patrol sergeant confronted a dispatcher about his backup after a potentially dangerous incident. The sergeant used an angry tone of voice and mild profanity. A specific regulation prohibits the use of "discourteous, abusive, profane or insulting language in any circumstances."
More troubling, the sergeant had been previously cautioned about berating dispatchers. He admitted using poor judgment in his conversations with the dispatchers and using profanity, but contested the severity of the punishment.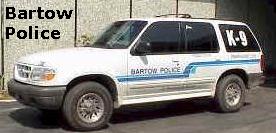 The arbitrator noted:
"If the goal of progressive discipline is to heal the employment relationship with minimum trauma to the patient, then demoting an employee as a disciplinary measure is like performing surgery with an axe: the operation may be a success, but the scars are very deep.

"Demotions may result in permanent cuts in pay and retirement benefits for the affected worker, and in a unionized context may run afoul of seniority principles. From a human resources standpoint, reducing an otherwise-competent employee purely as a form of discipline may be counterproductive to the goal of improving the employee's performance, and may have unpredicted effects on the morale of other workers."
Nevertheless, the arbitrator sustained a two-grade demotion (corporal is an intermediate rank). The grievant's poor judgment, when combined with prior incidents, "provided just cause to conclude the grievant should be relieved of supervisory duties and demoted."
City of Bartow, Fla. and W. Central Fla. PBA, 121 LA (BNA) 798, FMCS Case # 05/52254 (Greenberg, 2005).
• Click here to view the opinion on the AELE website.
• Return to the Contents menu.
Alaska Supreme Court overturns spouse-only policies for public employees benefit programs. Because homosexuals cannot marry, a state and municipal plans violate their equal protection rights under state law.
The Alaska Constitution provides that "all persons are equal and entitled to equal rights, opportunities, and protection under the law" (Art. I, §1). Another section, known as the Marriage Amendment, prohibits same-sex marriage (Art. I, §25). Thus, unmarried heterosexual couples become eligible for spousal benefits by marrying, but homosexual couples are prohibited from doing so.
In a suit brought by the Civil Liberties Union and nine gay and lesbian couples, the Alaska Supreme Court unanimously held that spouse-only benefit plans are unlawful. The justices said: "Programs allowing the governments to give married workers substantially greater compensation than they give, for identical work, to workers with same-sex partners cut against these constitutional principles yet further no legitimate goal of the governments as public employers."
The justices declined to extend benefits to other relationships such as polygamous or incestuous marriages because those relationships are illegal, whereas same-sex relationships are not. Although same-sex marriages may be prohibited, the U.S. Supreme Court has held that the relationship itself is not unlawful, citing Lawrence v. Texas, 539 U.S. 558 (2003). Alaska Civil Liberties Union v. Alaska, #S-10459, 2005 Alas. Lexis 148, 96 FEP Cases (BNA) 1428 (2005).
• Click here to view the opinion on the Internet.
Editor's Note: Similar litigation is on appeal in Michigan. National Pride at Work v. Granholm, #05-368-CZ (Ingham Co. Cir. Ct. 2005); stay ordered,
• Return to the Contents menu.
Troopers' union criticizes N.J. Attorney General's Office for not releasing a report clearing state police of allegations that a secret organization was formed to harass minority and women officers.
The "Lords of Discipline" supposedly was a secret group of state police officers that wrote threatening notes, drove nails into car tires, damaged equipment and created a hostile atmosphere against nonwhite and women officers.
A two-year investigation found that there is no evidence that the so-called "Lords of Discipline" ever existed. State Police management was never notified that the investigation had been concluded for eight months -- before a news sources broke the story.
However, the superintendent has disclosed that the NJSP internal affairs unit -- and not the Lords of Discipline Task Force -- uncovered harassment by seven troopers that has led to disciplinary actions ranging from a reprimand to a 45-day suspension.
The state has settled civil lawsuits filed by several troopers, paying them a combined total $650,000. Hopson v. State of N.J., #1:03-cv-05817 (D.N.J.)
Last year a trooper pled guilty to making false statements regarding his creation of Lords of Discipline T-shirts; he was suspended for ninety days. In 2003 the state paid more than $775,000 to motorists who were victims of racial profiling.
• Click here to view the New Jersey State Police Office of Professional Standards 2004 Annual Report.
• Return to the Contents menu.
Federal court finds that DHS canine enforcement officers were owed up to four additional hours of compensation a week for time spent laundering towels and preparing training aids for contraband-sniffing dogs, but off-duty time spent grooming the dogs or practicing with firearms was not compensable. DHS is liable for double back pay for willfully failing to compensate 60 customs officers for overtime.
The court found that laundering training towels, constructing training aid containers, and caring for and maintaining weapons are activities that benefit the DHS. Those tasks are directly related to a K9 officer's primary duties.
The court held that 60 Customs K9 officers were owed 2 hours a week for laundering and processing training towels, 1.5 hours for constructing training aids, and 15-30 minutes for weapons care and maintenance.
Liquidated (double) damages were appropriate because the DHS understood the overtime rules but knowingly rejected them. The agency "had full knowledge of such circumstances, yet did nothing to redress them" until an internal memo addressed the pay requirements.
However, no compensation was owed K9 officers for firearms training, dog grooming, vehicle care, and paperwork performed while off duty.

The court found that the K9 officers "are not principally employed to use a firearm, nor is off-duty firearms training necessary to improve the day-to-day performance of their work." DHS requires K9 officers to maintain only a minimum weapons proficiency.
Because the agency's supervisors were not aware that one of the plaintiffs, while off duty (1) completed various forms, (2) performed vehicle maintenance and (3) groomed her dog -- these claims were disallowed.
Bull v. United States, #01-56C, 2005 U.S. Claims Lexis 284, 10 WH Cases2d 1687; secondary orders at 2005 U.S. Claims Lexis 293 and 303 (Fed. Cl. 2005).
• Click here to read the main opinion (95 pages).
• Return to the Contents menu.
Arbitrator sustains a misconduct complaint against an officer who had sexual relations with an Explorer Scout. A ten-day suspension is reduced to a written reprimand because management failed to communicate the fraternization prohibition in writing as required under the bargaining agreement.
A suburban Seattle police officer was given a ten-day suspension for dating and having sex with a 20-year-old Explorer Scout, while off duty. He grieved and the union sought arbitration.
The Police Explorer Manual provided that "off duty contact and/or association between Officers and Explorers will only be permitted with the permission of the Post Commander and the parents of the Explorer."
The grievant and many other officers denied receiving the Manual and it was not distributed to the union for review, as required in the Bargaining Agreement. However, the no-fraternization policy was discussed by a superior at roll call.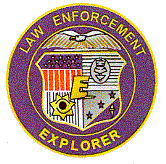 The arbitrator found the grievant's behavior was wrong, and deserved punishment. He explained:
"Explorers are not co-workers, they are young adult volunteers who are there to be guided, and tutored by the Officers in the Department. It is incomprehensible that the Guild should argue that the Department cannot prohibit fraternization between Officers and these young adult volunteers. Even the appearance of an inappropriate encounter between an underage Explorer and an Officer could damage the viability of the Explorer Program, and subject the City to litigation expenses."
However, the penalty of a ten-day suspension was inappropriate in light of management's failure to properly communicate the no-fraternization policy. The arbitrator wrote:
"The communication of policy should not be a scavenger hunt. A simpler and more direct approach would have been to place the non-fraternization policy directly in the SOP Manual. This direct approach would have complied with the CBA and provided verifiable notice of the policy to all the Officers."
The suspension was annulled and the penalty was reduced to a written reprimand. City of Bremerton and Bremerton Police Officers Guild, 121 LA (BNA) 915 (Reeves, 2005).
• Click here to view the award on the AELE website.
• Return to the Contents menu.
Arbitrator sustains a union grievance after a dispatcher volunteered to perform clerical work for $3 an hour less pay. A member of a bargaining unit cannot make a side deal with the employer.
Collective bargaining takes the place of individual bargaining. A member of a bargaining unit has no right to make an agreement with management for a change in duties or pay. In this case the union president challenged a reassignment of a dispatcher to an off the charts job as a front office clerk, for less money. The worker wanted the position because it was a straight day job.
The city contended that the grievant had been offered the position "at her request, due to personal reasons" and that "she understood that this was a voluntary demotion that would result in a reclassification to Clerk and a reduction in pay."
The union cited a standard contract provision that prohibits employees from negotiating individual arrangements that conflict with the bargaining agreement. It claimed that separate agreements undermine the integrity of the bargaining contract.
The arbitrator sustained the grievance. Management should have met with the union about creating the position, establishing the pay rate, and then posting the position so that all interested workers could apply. He wrote:
"There is no dispute that the grievant volunteered to work on the front desk and knowingly accepted a lower rate of pay. However, Section 4 of the agreement allows no exceptions to the provision that a change in classification will not result in a decrease in an employee's current wage."
He ordered the city to restore her salary to the same rate she earned as a dispatcher. City of Fairbanks and Public Safety Employees Assn., 121 LA (BNA) 978 (Savage, 2005).
• Click here to view the award on the AELE website.
• Return to the Contents menu.
Illinois Labor Board affirms ruling that Chicago improperly outsourced Chicago Bears traffic control jobs from the police union to park district personnel.
The City of Chicago and the Chicago Park District are separate legal entities. Years ago the Park Dist. abolished its separate police force and contracted with the city for police protection.
The Park District owns and operates Soldier Field, where Chicago Bears football games are played. During the games, a mixture of 90 Chicago Police sworn and civilian personnel provided traffic control.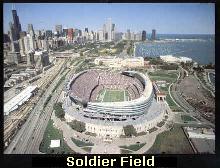 The City negotiated contracts with the Park District and Exposition Authority where the latter would staff 30 of the 90 part-time traffic control positions. The FOP filed an unfair labor practice charge, and an Administrative Law Judge upheld the complaint.
On appeal, the Illinois Labor Relations Board affirmed, 2-to-1. The majority found there was a recognized and established past practice of using police personnel.
The dissenting member thought that the City did not unlawfully subcontract bargaining unit work when it signed intergovernmental agreements with the Park District and Exposition Authority. He wrote:
"I believe there is a distinct difference between the decision the City made with these fellow governmental agencies and a public employer's decision to truly subcontract bargaining unit work to a separate, private company."
Illinois FOP, L-7 and City of Chicago Police, # L-CA-04-008, 21 PERI 83, 2005 PERI (LRP) Lexis 77 (Ill. LRB 2005).
• Click here to view the decision on the AELE website.
• Return to the Contents menu.
Federal court allows a Seventh-day Adventist who was rejected as the village finance director to sue the village and its mayor for religious discrimination because budget meetings were typically held on Saturdays.
In denying a motion for summary judgment a federal court in Chicago rejected the defendants' argument that plaintiff 's proposed accommodations for the conflict between her religious observance and the duties of finance director would have posed an "undue hardship" as a matter of law.
Neither the job description nor the village's written practices mentioned the Saturday budget meetings. As a Seventh-day Adventist, she had to observe her Sabbath from Friday evening until sundown on Saturday.
She had proposed that the budget meetings be held instead on a weeknight, or on Sundays, or that she be allowed to send a subordinate to the Saturday meetings. Without contacting any of the village trustees, the mayor rejected the accommodations and withdrew his job offer.
The court held that genuine issues of fact existed as to whether the village adequately engaged in an "interactive process" required by Title VII. The judge noted that village trustees meet on Tuesday nights.
Undue hardship depends on "the facts and circumstances of each case, and ultimately boils down to whether the employer acted reasonably," the judge wrote.
Although the mayor claimed qualified immunity, the court disagreed, because pre-existing law clearly established that an employer has a duty to accommodate an employee's religious conflicts. Filinovich v. Claar, #04C7189, 2005 U.S. Dist. Lexis 24433 (N.D. Ill. 2005).
• Click here to view the decision on the AELE website.
Editor's Note: Law enforcement and correction officers and firefighters need to be available for callback on all days, and seniority rights are recognized in existing federal regulations. In this case, budget meetings can be called at any convenient time.
• Return to the Contents menu.
•••• Editor's Case Alert ••••
Federal jury in Boston awards a Lowell officer $1.2 million in compensatory damages and $1 million in punitive damages against the International Brotherhood of Police Officers in a sexual harassment lawsuit.
The plaintiff claimed that she endured humiliation and sexual harassment by male officers during a 1998 bus trip into Boston to attend a political rally while off duty. She suffers from post-traumatic stress disorder from the incident and also alleged hostile retaliation from various union members after she complained.
One male officer, who was later fired, began making sexually offensive remarks and others on the bus joined in. The remarks were so offensive that she got off the bus in the middle of Boston.

The jury awarded her $5,000 in compensatory and $25,000 in punitive damages against IBPO Local 382, $1,200,000 in compensatory and $1,000,000 in punitive damages against the International Brotherhood, and $2,500 punitive damages against a union official.
The defendants have moved to set aside the judgment and plan an appeal if not successful. Dixon v. Intern. Bro. of Police Officers, #1:01-cv-11806 (D. Mass. 2005).
• Click link to view the Judgment and Verdict, and the union's Motion for a directed judgment or new trial on the AELE website.
• Return to the Contents menu..
Federal and N.Y. appellate courts both reject a police officer's claim that he was suspended without adequate Due Process. Accused of having sex with a civilian while on duty, he received notice of the charges with dates and locations, references to applicable regulations, was able to respond to the allegations and had his lawyer present during the I-A interview.
A police officer in Orangetown, N.Y., was accused of sexual activity with a civilian while on duty, and unlawfully accessing confidential records. The chief initiated an internal affairs investigation, and the officer was transferred to desk duty.
He later received two proposed disciplinary charges, one for the alleged misconduct and another for lying during his internal affairs interview. Both contained specific information regarding dates, locations, the nature of the misconduct, and references to applicable regulations.
Following receipt of formal disciplinary charges, the was charged with criminal harassment; he was suspended pending the outcome of the criminal case. He filed suit in state court challenging the suspension, claiming that the disciplinary charges were untimely. The appellate court disagreed.
He also sued in federal court, alleging deprivation of his liberty and property interests in violation of the Due Process Clause.
The federal judge noted that few courts have determined whether a suspension without pay, as opposed to termination, amounts to a deprivation of a property interest implicating due process.

That issue was unnecessary to decide, because the officer was afforded Due Process. The federal judge noted the officer "had ample opportunity to be heard on the charges against him." He had retained counsel, submitted answers to the charges, and appeared with his lawyer at the internal affairs interview.
The judge noted that the facts here were similar to those in Gilbert v. Homar, 520 U.S. 924 (1997), where the Supreme Court found that "when faced with temporary suspension without pay, in contrast to termination of employment, failure to provide the plaintiff with a pre-suspension hearing did not violate procedural due process so long as the plaintiff received a sufficiently prompt and thorough post-suspension hearing."
Munno v. Town of Orangetown, #03cv8650, 391 F.Supp.2d 263, 2005 U.S. Dist. Lexis 24232 (S.D.N.Y. 2005); Munno v. Town of Orangetown, 2003-08081, 13 A.D.3d 538, 786 N.Y.S.2d 576, 2004 N.Y. App. Div. Lexis 15836 (2004).
• Click here to view the federal and state decisions on the AELE website.
• Return to the Contents menu.
Report non-working links here

NOTED IN BRIEF
(SOME WITH LINKS)
Age Discrimination - General
Sixth Circuit rejects an EEOC age discrimination charge brought against a county because disability pensions are restricted to workers under age 55 and the disabled applicant was a 61 year-old deputy sheriff. EEOC v. Jefferson Co. Sheriff's Dept., #03-6437, 424 F.3d 467, 2005 U.S. App. Lexis 20053, 2005 FED App. 0397P, 96 FEP Cases (BNA) 801 (6th Cir. 2005).
Collective Bargaining - Duty to Bargain
Illinois appellate court holds that a university did not have to bargain with the police union over changes in employee parking arrangements. Bd. of Tr. of the Univ. of Illinois v. IL Lab. Rel. Bd., #4-04-0484, 2005 Ill. App. Lexis 1007 (4th Dist. 2005).
Criminal Liability
New Jersey Supreme Court holds that employees of privatized agencies can be prosecuted for official misconduct. State v. Perez, A-86-04, 185 N.J. 204, 883 A.2d 367, 2005 N.J. Lexis 1134 (2005).
Defamation - In General
Fourth Circuit refuses to dismiss defamation suit brought by a former Army scientist who was identified as a "person of interest" in the 2001 anthrax killings. Hatfill v. N.Y. Times Co., #04-2561, 427 F.3d 253, 2005 U.S. App. Lexis 22397 (4th Cir. 2005).
Disciplinary Investigations
Federal appeals court rejects suit by a state trooper who was indicted and acquitted of criminal conduct. Even if an I-A investigator made careless mistakes in his testimony, they were corrected or there was a reasonable basis for making them. White v. Wright, #04-1934, 2005 U.S. App. Lexis 20755 (Unpub. 4th Cir. 2005).
Disciplinary Surveillance
Management's placement of a concealed video-only camera in an unlocked computer room, which was shared by two schoolteachers, was not a privacy violation. Crist v. Alpine Union Sch. Dist., #D044775, 2005 Cal. App. Unpub. Lexis 8699 (2005).
FLSA - Administrative & Executive Exemptions
DoL rules that police lieutenants, police captains, and fire battalion chiefs are exempt from overtime under the Fair Labor Standards Act because their primary duty is management, even though they do not make the ultimate decisions on hiring and firing. Wage & Hour Opin. Ltr. # FLSA2005-40, 2005 DOLWH Lexis 52 (10/14/05).
Family, Medical & Personal Leave
Arbitrator overturns the termination of a public employee for engaging in other employment without permission while on FMLA leave for depression; she received no wages or benefits from her husband's business. Chippewa Valley Schools and Mich. AFSCME L-1884, #A9504-1884-04, 121 LA (BNA) 890 (Daniel, 2005).
Massachusetts becomes 22nd state to allow public workers to take paid leave for organ donation. Mass. Gen Laws. Ch. 149, §33D (2005).
Handicap Laws / Abilities Discrimination - Constitutionality
Third Circuit holds that Pennsylvania county courts are "state entities" even though they are locally funded and thus are immune under the 11th Amendment from disability discrimination lawsuits filed by probation officers. Benn v. First Jud. Dist., #01-3769, 426 F.3d 233, 2005 U.S. App. Lexis 21959, 17 AD Cases (BNA) 228 (3rd Cir 2005).
Homosexual & Transgendered Employee Rights
The Supreme Court declined to review the $320,000 damage award given to a transsexual police officer in Cincinnati. She also recovered $550,000 in legal fees. Cincinnati v. Barnes, #05-292, cert. denied, 2005 U.S. Lexis 8238, 74 U.S.L.W. 3288 (U.S. 11/7/2005).
In a Nov. 2005 election in Maine, over 55% of voters rejected Referendum Question 1: "Do you want to reject the new law that would protect people from discrimination in employment, housing, education, public accommodations and credit based on their sexual orientation?"
Pay Disputes - In General
Arbitrator rules that although the CBA specifically allowed four hours minimum pay for off-duty court appearances, only actual hours need be paid for other callback duty, such as a flood response. Columbiana County Sheriff and FOP, 121 LA (BNA) 902, FMCS Case #05/01634 (D'Eletto, 2005).
Political Activity/Patronage Employment
Sixth Circuit affirms the demotion of a sheriff's dept. lieutenant because of his political support of the previous sheriff. "Where the effective performance of a particular office demands affiliation with a particular party or subscription to a particular policy, the Constitution permits dismissal based on political grounds." Cagle v. Headley, #04-6162, 2005 U.S. App. Lexis 19153 (Unpub. 6th Cir. 2005).
Race Discrimination - In General
Federal appeals court rejects a discrimination complaint filed by a black criminal investigator who was fired for not having a valid security clearance. The clearance failure was based on an untruthful job application. Relying on Ryan v. Reno, 168 F.3d 520 (D.C. Cir. 1999), the panel held that adverse employment action that is based on the denial or revocation of a security clearance is not actionable under the Civil Rights Act of 1964. Bennett v. Chertoff, #04-5281, 425 F.3d 999, 2005 U.S. App. Lexis 22382 (D.C. Cir. 2005).
Retaliatory Personnel Action
A federal court in Manhattan has ruled that a denial of Emeritus status to a professor is not an "adverse employment action" even if it was in retaliation for exercising his First Amendment rights. The honorary title conferred no benefits; all retired professors enjoyed office and telephone privileges. Zelnick v. Fashion Institute of Technology, #03 CV 8210 (Unreported, S.D.N.Y. 2005).
A county did not act unlawfully in terminating a mental health therapist who was seriously and permanently injured from an assault by a violent patient. "An employer is not guilty of retaliatory discrimination when the employee cannot perform the customary work without risk of either reinjury or further injury." County of San Luis Obispo v. Workers' Comp. Appeals Bd., #B182145, 133 Cal.App.4th 641, 2005 Cal. App. Lexis 1637 (2d App. Dist. 2005).
Retirement Rights and Benefits
Illinois appellate court holds that a retired police officer who was convicted for misconduct in office was entitled to a full refund of his contributions to the police pension fund, without deduction of the substantial amounts he received prior to the termination of benefits. Bassett v. Pekin Police Pension Board, 2005 Ill. App. Lexis 1127 (3rd Dist. 2005).
Sexual Harassment - Same Gender
California appeals court affirms a $1.9 million verdict awarded to a gay employee at a California correctional facility because of pervasive harassment by coworkers. His immediate supervisor had called him a "motherfuckin' faggot" and a "homo." Hope v. Calif. Youth Auth., #B171593, 2005 Cal. App. Unpub. Lexis 8210 (2005).
Suspensions and Administrative Leave
Federal appeals court rejects a back pay claim for a police officer who was suspended and later fired for making over $52,000 in false overtime claims; the former officer is now collecting retirement benefits for his 21 years of service. Stachowski v. Town of Cicero, #04-2782, 425 F.3d 1075, 2005 U.S. App. Lexis 22184 (7th Cir. 2005).
Untruthfulness & Resume Fraud
MSPB confirms the termination of a Bureau of Prisons employee who gave false answers about child support questions in his employment action. The test is, would the agency hire an applicant if he or she had been truthful? Cameron v. Dept. of Justice, #DE-0752-04-0155-I-1, 2004 MSPB Lexis 3178 (Rptd. 2005).
Whistleblower Requirements and Protection
First Circuit upholds a jury finding that officials in the state's organized crime division terminated an undercover officer for disclosing mismanagement and possible corruption to a newspaper. Tejada-Batista v. Morales, #03-1841, 424 F.3d 97, 2005 U.S. App. Lexis 20109, 23 IER Cases (BNA) 828 (1st Cir. 2005).
Justice Dept. orders the FBI to reinstate a Chicago agent who faced dismissal for accusing his superiors of not doing enough to prevent the Sept. 11 attacks. The agent was suspended for insubordination, unprofessional conduct and talking to the media without approval. In re Robert G. Wright, Jr., FBI Office of Professional Responsibility (2005).
Navy adopts strong prohibition against whistleblower retaliation: "No person may take, or threaten to take, an unfavorable personnel action (including a referral for mental health evaluation), or withhold, or threaten to withhold, a favorable personnel action in reprisal against any member of the Armed Forces for making or preparing to make a protected communication, including an allegation of sexual harassment or unlawful discrimination, to one authorized to receive the communication." Military Whistleblower Reprisal Protection, SecNavInst 5370.7C (14 Oct. 2005).
Workers' Compensation - Claim Validity
N.Y. appellate court upholds a compensation claim for an injury suffered during the employee's lunch break. Morales v. Spring Scaffolding, #5760, 2005 NY Slip Op 7479, 802 N.Y.S.2d 41, 2005 N.Y. App. Div. Lexis 10789 (App Div. 1st Dept. 2005).
• Return to the Contents menu.
Report non-working links here

RESOURCES
Dictionary of federal terminology: On Their Own Terms: A Lexicon with an Emphasis on Information-Related Terms Produced by the U.S. Federal Government, by Susan Maret, Ph.D., Nov. 2005:
Disabilities discrimination -- a new guide: "Q&A about the Association Provision of the ADA."
Discrimination reports - FBI: Statistical data on equal employment complaints filed against the FBI in the last five years.
FEMA report: U.S. Firefighter Fatalities in 2004.
Per diem reimbursements: The GSA no longer publishes the list in the Federal Register. All rates are available at http://www.gsa.gov/perdiem
Police job satisfaction: articles published by Sage Publications.
1. Factors Affecting the Decision of Police Recruits to "Drop Out" of Police Work, 2005 (8) Police Quarterly 431-453.
2. Job Satisfaction, Burnout, and Perception of Unfair Treatment: The Relationship Between Race and Police Work, 2005 (8) Police Quarterly 476-489.
Terrorism - DoJ-IG report: A Review of the FBI's Handling of Intelligence Information Prior to the September 11 Attacks. (2005).
Reference:
• Abbreviations of Law Reports, laws and agencies used in our publications.
• AELE's list of recently noted employment law resources.
• Discrimination Laws plus EEOC Regulations and Policy Guidance

Featured Cases:
Collective Bargaining/Duty to Bargain - see: Job Classification Rights
Disability Rights - see: Age Discrimination
Disciplinary Punishment - see: Fraternization
Racial Harassment - see: Employee Harassment - Nonsexual
Sexual Harassment - see: Employee Harassment - Nonsexual
Noted in Brief:
Criminal Liability - see: Disciplinary Investigations
Privacy Rights - see: Disciplinary Surveillance

Return to the Contents menu.
Return to the monthly publications menu
Access the multiyear Employment Law Case Digest
List of links to court websites
Report non-working links here.

© Copyright 2006 by A.E.L.E., Inc.
Contents (or partial contents) may be downloaded,
stored, printed or copied by, or shared with, employees of
the same firm or government entity that subscribes to
this library, but may not be sent to, or shared with others.