---
AELE Seminars:
Criminal Justice Compliance & Management Audits
Oct. 30-Nov. 1, 2006 – Las Vegas
Public Safety Discipline and Internal Investigations
Dec. 11-13, 2006 - Las Vegas
Click here for more information about all AELE Seminars
---

Search the Case Law Digest




An employment law publication for law enforcement, corrections and the fire/EMT services,
ISSN 0164-6397 - Cite this issue as: 2006 FP Sep (web edit.)
Click here to view information on the editor of this publication.
Access the multiyear Employment Law Case Digest
Return to the monthly publications menu
Report non-working links here
Some links are to PDF files - Adobe Reader™ must be used to view contents.
Featured Cases – with Links
Age Discrimination - Promotion
Arbitration Awards - Right of Courts to Interfere
FLSA - Standby Time
Mental Examinations
Pregnancy Discrimination
Religious Discrimination
Retaliatory Personnel Action
Sexual Harassment - Verdicts
Suicide Related
Unfair Labor Practices
Noted in Brief
Arbitration Awards - Right of Courts to Interfere
Attorneys' Fees
Back Pay Claims
Bargaining Unit Determinations (2 cases)
Collective Bargaining - Duty to Bargain
Disciplinary Hearings - Proof Required
Disciplinary Interviews - Weingarten
Discovery and Media Rights (2 cases)
Grievance Procedures
Handicap Discrimination - Psychiatric
Handicap Discrimination - Specific Disabilities
Physical Fitness Requirements
Retaliatory Personnel Action (2 cases)
Retirement Rights and Benefits (2 cases)
Sexual Harassment - In General
Sexual Harassment - Verdicts
Sick Leave & Abuse
Telephone Monitoring & Video Taping
Union Activity
Whistleblower Requirements and Protection
FEATURED CASES & ITEMS
WITH LINKS TO THE OPINIONS OR DOCUMENT
Report non-working links here
New Jersey's labor board rejects an age discrimination challenge to a new requirement that lieutenants who are promoted to captain must possess a bachelor's degree.
The union that represents New Jersey State Police lieutenants contested a new bachelor's degree requirement for captains. The union conceded that establishing captain qualifications is a managerial prerogative, but raised the issue of age discrimination. Older lieutenants are less likely to have a four-year degree than younger candidates.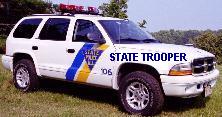 The New Jersey Public Employment Relations Commission found that the challenge was not subject to binding arbitration. Management is free to establish standards including subjective factors such as "intelligence, courage, ability to deal with people" as well as objective criteria such as seniority or experience.
"The State is thus free to require a bachelor's degree for promotion to captain and an arbitral challenge to that requirement would substantially limit government's policymaking powers." N.J. State Police and Superior Officers Assn., #SN-2006-030, PERC #2006-68, 32 NJPER 41, 2006 NJPER (LRP) Lexis 39 (2006).
• Click here to view the decision on the AELE website.
• Return to the Contents menu.
Arbitration Punishment Awards - Right of Courts to Interfere
Ohio appellate court reinstates an arbitrator's award, reducing a penalty from termination to a 40-hour suspension. After a suspect was Maced, he died while confined in an unventilated police car. The grievant failed to wash the suspect's face or keep him under observation.
Cincinnati police used chemical Mace to subdue a suspect who died from mechanical asphyxia after he was left unattended in a locked cruiser with the windows closed. Two officers were indicted; one was acquitted, and the jury was unable to reach a verdict on the other prosecution. The grievant was administratively charged with:
1. A failure to provide due care to the suspect by not rinsing his face with water or exposing him to fresh air;
2. A failure to tend to or seek medical aid for the suspect;
3. Leaving the suspect unattended in a patrol car in violation of Dept. Rule 1.01E;
4. Using excessive force;
5. Failing to report the use of force; and
6. Failing to exercise due care and safety to the suspect, even though he was aware that the suspect had sustained injuries during his struggle with officers.
All six charges were sustained at a pre-disciplinary hearing. The hearing officer recommended a 10-day/80-hour suspension but the city manager rejected the recommendation and terminated the grievant.
The FOP submitted the grievance to binding arbitration. After a two-day hearing, the arbitrator dismissed four charges and sustained two: failure to provide medical care and the failure to report the use of force to a supervisor.
The arbitrator reduced the punishment from termination to a 40-hour suspension. The city judicially challenged the reduction and a Common Pleas Court judge vacated the arbitration award.

A three-judge appellate panel later reversed and reinstated the arbitrator's award, 3-to-0. The Ohio Supreme Court has declined to review the appellate decision.
The appellate court was loathe to substitute its judgment for that of the arbitrator. "The whole purpose of arbitration would be undermined if courts had broad authority to vacate an arbitrator's award." The panel then addressed the city's claim that the award was unlawful because of the arbitrator's reference to rules and penalties that were not part of the bargaining agreement:
"It is well settled that an arbitrator may not apply rules extraneous to the collective-bargaining agreement if those rules were not bargained for and are contrary to the plain language of the agreement. ... Because the Rules Manual and the Matrix were not mentioned in the collective-bargaining agreement, the city contends, the arbitrator improperly employed them to redefine the collective-bargaining agreement and thus exceeded the scope of her authority."
The panel soundly rejected that position:
"The no-extraneous-source rule would lead to ludicrous results in disciplinary-arbitration cases because an arbitrator could never compare the severity of discipline in similar offenses. ... An arbitrator could never determine whether an offense had been committed or assess its reasonableness without reference to the department's rules manual and other similar disciplinary documents, matters all extraneous to the agreement."
Here, the arbitrator reduced the penalty from termination to a suspension, which was consistent with the penalties imposed on other officers. The panel concluded by noting that "whether we would have ruled differently than the arbitrator is immaterial [because a] reviewing court cannot substitute its judgment for the arbitrator."
City of Cincinnati v. Queen City L-69 FOP (Caton), #C-050143,164 Ohio App.3d 408, 2005 Ohio 6225, 842 N.E.2d 588, 2005 Ohio App. Lexis 5601 (App. 1st Dist.); appeal denied, 2006 Ohio 1703, 2006 Ohio Lexis 873 (Ohio 2006).
• Click here to view the opinion on the Internet.
• Return to the Contents menu.
Sixth circuit rejects the standby claims of special response officers who were required to wear pagers while off-duty, and to live within a 30-minute commuting distance.
Twenty-five Detroit airport police officers assigned to SWAT, the Bomb Squad, K-9, and the Accident Investigation Unit receive extra "specialty pay." All specialty unit officer were required to carry digital pagers when on and off duty. K-9 and Bomb Squad officers were required live within a thirty-minute travel time from the airport.
They sued for overtime pay, claiming that the off-duty restrictions were so confining that they should be compensated while on standby duty. After the suit was filed, management collected all pagers. The officers responded by adding a retaliation claim in their amended complaint.
The district court concluded that the plaintiffs were not severely restricted by the on-call policy because the plaintiffs admitted that they could engage in all of their regular activities while off duty. On appeal, a three-judge panel has affirmed. The panel noted that the test for determining whether off-duty time is compensable is whether the employer "imposes burdens on the employee so onerous that they prevent employees from effectively using their time for personal pursuits."
None of the plaintiffs were disciplined for failing to respond to a page while off duty. The pagers worked throughout the state. The panel said that "the evidence and arguments presented by the plaintiffs are insufficient to show that [management] acted in violation of the FLSA"
The panel also rejected the retaliation claim.
"Plaintiffs complain that [management] took adverse action against them by ordering their pagers returned. Such an action is not materially adverse. Plaintiffs did not suffer any loss or diminution of wages, benefits, or responsibilities. .... the Airport Authority decided to remove the pagers from plaintiffs - and all the airport's officers - after the suit was filed, but only because plaintiffs complained that the pagers were burdensome."
Adair v. Charter County of Wayne, #04-2457 2006 U.S. App. Lexis 15497 (6th Cir. 2006).
• Click here to view the opinion on the Internet.
• Return to the Contents menu.
Plaintiff, in a wrongful fatal shooting lawsuit, demanded that a law enforcement officer submit to a mental examination; the federal court agreed to the demand. On review, the 5th Circuit holds that interim discovery orders are not appealable.
A Houston area deputy constable stopped a bicyclist for riding on the wrong side of the road. A struggle followed, and the deputy fatally shot the man when he thought that he was reaching for a weapon in his back pocket. http://www.aele.org/constable.html
During the discovery phase of the civil rights lawsuit for excessive force, a federal judge granted the plaintiff's request that the deputy submit a psychological examination. See Goodman v. Harris County, #4:03-cv-4198, Document 58 (S.D. Tex. 10/08/2004).

The deputy appealed the order to the Fifth Circuit. A three-judge panel ruled that an Order for a Mental Examination was not appealable, and sent the action back to the trial court. Goodman v. Harris County, #04-20859, 443 F.3d 464, 2006 U.S. App. Lexis 7085 (5th Cir. 2006).
• Click link to view the 2004 discovery order on the AELE website, and the 2006 5th Circuit's opinion on the Internet.
• Return to the Contents menu.
•••• Editor's Case Alert ••••
Federal court rules that a police dept. policy that restricts light duty assignments to officers injured on the job discriminates against pregnant officers. Damages awarded.
The American Civil Liberties Union filed a lawsuit on behalf of six female police officers, arguing that a light duty policy that disqualifies pregnant officers from desk and other non-patrol jobs violates federal law, because of the policy's disparate impact on women.
During the trial, one of the women testified that the policy forced her to choose between working unsafely as a patrol officer while pregnant and not working at all.
The department did not have or acquire bulletproof vests that fit most women in the later months of pregnancy. Even if the women had wanted to remain on patrol, they would have lacked necessary safety equipment.
"Disparate impact" means that a policy that is neutral on its face but that has a disproportionate and adverse impact on women or protected minorities and is unlawful.
After deliberating for three days, the jury awarded the six women between $5,000 and $23,000 in damages. Lochren v. Co. of Suffolk, #2:01-cv-03925, Pacer Doc. #152 (E.D.N.Y. 2006).
• Click here to view the award on AELE's website.
• Return to the Contents menu.
•••• Editor's Case Alert ••••
Federal court grants a summary judgment favoring a uniformed employee who was fired for wearing a headscarf during the month of Ramadan.
Although this case arose in the private sector, the same principles of law would apply to government agencies. EEOC sued a car rental agency because it terminated an Islamic worker who wore a headscarf (hijab) while at work during the month of Ramadan. The complainant had immigrated from Somalia, which is a Sunni Muslim country.
The employer claimed that management had reasonably accommodated her religious interests by permitting her to wear a headscarf in the back room, but not at the rental counter. The employer had a "Dress Smart Policy" that promoted a "favorable first impression with customers, and expressly prohibited employees from wearing certain clothing and accessories."
Although the employer failed to show an adverse economic impact by fully accommodating the worker, management feared that if she wore the headscarf when working at the customer desk it could lead to demands for clothing preferences by other employees and a loss of morale if exceptions were made for some, but not all workers.
Although the employer may have legitimately believed that accommodating a request to wear a head covering at the rental counter might have "opened the floodgates to others violating the uniform policy," the court noted that there was no evidence to support that fear. The court said:
"A claim of undue hardship cannot be supported by merely conceivable or hypothetical hardships; instead, it must be supported by proof of actual imposition on co-workers or disruption of the work routine."
The plaintiff was entitled to a summary judgment on the issue of liability. EEOC v. Alamo Rent-A-Car, #2:02-cv-01908, 2006 WL 1464472, 2006 U.S. Dist. Lexis 34674, Pacer Doc. 62 (D. Ariz. 2006).
• Click here to view the opinion on the AELE website.
• Click here to access "Questions and answers about employer responsibilities concerning the employment of Muslims, Arabs, South Asians, and Sikhs," U.S. Equal Employment Opportunity Commission (2005).
Editor's Note: The Metropolitan Police of greater London allow Islamic women constables to wear a hijab. There are four different official styles, in police colors.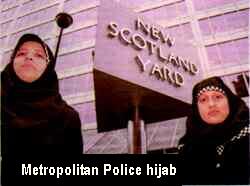 Although the U.K. has had a Race Relations Act for 30 years, it does not ban religious discrimination. The apparel accommodation was adopted to assist recruitment efforts to implement the force's 2001 "Diversity Strategy Action Plan."
Important: Although employers can challenge the sincerity of an employee's beliefs, they cannot refuse to accommodate a worker because (a) a religious practice is unusual or unorthodox, or (b) a spiritual organization lacks legitimacy in the judgment of management, or (c) the worker is unable to articulate aspects of his or her religious beliefs. U. S. v. Seeger, 380 U.S. 163 (1965); Fowler v. Rhode Island, 345 U.S. 67 (1953); Thomas v. Review Bd. IESD, 450 U.S. 707 (1981).
• Return to the Contents menu.
Supreme Court eases test of what constitutes legal retaliation, but emphasizes that each case must be viewed independently.
Managers and supervisors who inflict "petty slights, minor annoyances, and simple lack of good manners" do not constitute actionable events, but "the significance of any given act of retaliation will often depend upon the particular circumstances. Context matters."
Although the supervisor in the case that reached the Supreme Court was suspended for 10 days and was ordered to attend a sex-discrimination workshop, the plaintiff, a railroad employee, was transferred from a coveted forklift job to work as a track laborer. Although both positions earned the same level of pay and benefits, the laborer job was physically more demanding and required working outside in all weather conditions.
Later, she was suspended without pay for 37 days pending an investigation of alleged insubordination. She was eventually reinstated with full back pay.
She sued the employer for retaliation, and a federal jury awarded her $43,250 in compensatory damages for emotional distress and medical bills. In affirming an appellate court decision, the justices said the test is whether the employer's retaliatory acts are likely to dissuade a reasonable employee from complaining or assisting in complaints about discrimination.
The justices stressed that judges must consider the unique circumstances of each situation. Burlington No. & Santa Fe Rwy. v. White, #05-259, 2006 U.S. Lexis 4895 (2006).
• Click here to view the opinion on the Internet.
• Return to the Contents menu.
Former police officer wins $700,000 in compensatory and $1 million in punitive damages for enduring repeated sexual and derogatory remarks.
The plaintiff was the first woman police officer in Mokena, Illinois, the "Home of planned progress and pleasant living." The suburb, which is Southwest of Chicago, has a police chief, a commander, 5 sergeants and 21 officers.
The plaintiff, who is married to an Orland Park officer and is the daughter of a retired Chicago officer, resigned and sued for gender bias and sexual harassment. She claimed that she was barraged with unwanted, sexually graphic comments, was denied backup by her sergeants, and was subjected to gender bias.

After a three-week trial, a federal jury awarded $700,000 in compensatory damages against the Village and two sergeants, plus $1 million in punitive damages against the sergeants individually. The jury also recommended $225,000 in back pay; but the court has yet to rule on this claim. The judge also will award her attorney's fees.
In court, male officers disputed her version of the facts, portraying her as a liar. The village plans to appeal. Barth v. Vil.of Mokena, #03 Civ 6677, Pacer Doc. 330 (N. D. Ill.2006). Prior rulings at: 2006 U.S. Dist. Lexis 19702, 97 FEP Cases (BNA) 1764 (3/31/2006); at 2004 U.S. Dist. Lexis 8316 (5/7/2004); and at 2004 U.S. Dist. Lexis 2789 (2/24/2004).
• Click link to view the Entry of Judgment and the plaintiff's 20-page Amended Complaint.
• Return to the Contents menu.
Federal court rejects an ADA and FMLA challenge to the termination of a police sergeant that threatened to kill himself.
An Arkansas police officer called a friend and told him to "send the coroner to my house." The sergeant was found in the shower, holding his service revolver to his forehead; he eventually surrendered the weapon. At the time that he threatened suicide, he was on a two-day suspension for failing to attend firearm qualification.
The sergeant was fired while on medical leave. He then sued under the ADA and the FMLA. He claims that he has no recollection of his suicide threat and does not remember notifying his supervisors of a need for medical leave.
The District Court dismissed the action, noting that it is unlikely that he alleged a prima facie case under the ADA because depression, if controlled by medication, is not a disability.

Even if he made his prima facie case by showing disability, " a city may legitimately terminate a police officer for attempting suicide." The judge cited an Eighth Circuit case with nearly identical facts, Spades v. City of Walnut Ridge, #98-4119, 186 F.3d 897 (8th Cir. 1999). A three-judge panel wrote in that case:
"The City articulated a nondiscriminatory reason for his termination-increased likelihood of liability. ... Claims of negligent hiring, supervision, and retention loom large in the minds of employers and their lawyers. Thus, [the plaintiff] has advanced no factual or legal argument, beyond mere conjecture and conclusion, that the City's stated reason for discharging him was a pretext for discrimination."
Prichard v. City of Bryant, 4:04-cv-00660, 2006 WL 751296, 2006 U.S. Dist. Lexis 22720, 11 WH Cases2d (BNA) 882, Pacer Doc #41 (E.D. Ark. 2006).
• Click here to view the opinion on the AELE website.
• Return to the Contents menu.
Michigan Employment Relations Cmsn. finds that management committed an unfair labor practice by suspending, with pay, a police officer who hosted a website that was critical to management. The website need not have a direct nexus to wages, hours, or working conditions.
A Detroit police officer created a website with his own funds and managed it while off duty. The website, firejerryo.com, provided a forum for Detroit police officers to express their concerns over issues within the department. It also provides a source of information to the community concerning issues within the department.
The website contained a guest book that permitted visitors to register their gripes. It had pages with satire and caricatures. The chief suspended the plaintiff, initially with pay, until he dismantled the site. The chief claimed the site contained racial slurs that were detrimental to the department. The officer was then suspended without pay, when he continued to operate the site.
The union filed an unfair labor practice charge, alleging that the city violated state labor laws by directing officer to shut down his website and by suspending him when he failed to do so.
An Administrative law Judge found that operation of the website was 'protected concerted activity because matters addressed on the website included work-related subjects such as wages, promotions, manpower, and discipline, even though subjects unrelated to working conditions also appeared.
On appeal, the city claimed that some statements posted on the website constituted sexual harassment, or were racist in nature, or otherwise offensive. The Michigan Employment Relations Commission noted that there was no evidence that the officer posted these statements.
The Commission held that the city's demand that the officer shut down his entire website, and the disciplinary action imposed, "constituted a violation of [the officer's] rights under [state labor laws] to engage in protected concerted activity. We will not allow the suppression of ... protected speech simply because it occurs in conjunction with speech that is not protected by [state law], where there has been no showing of actual harm or adverse impact flowing from that speech." Detroit Police Dept., and Detroit P.O.A.,C04 A-001, 19 MPER 15, 2006 MPER (LRP) Lexis 14 (2006).
• Click here to view the opinion on the AELE website.
Editor's Note: What is unusual is the way the issue was litigated. Normally it would be a judicial review from a civil service board, or a First Amendment lawsuit filed in state or federal court. The protected speech in this case was related to concerted activity by a member of the bargaining unit.
• Return to the Contents menu.
Report non-working links here
---
AELE Seminars:
Criminal Justice Compliance & Management Audits
Oct. 30-Nov. 1, 2006 – Las Vegas
Public Safety Discipline and Internal Investigations
Dec. 11-13, 2006 - Las Vegas
Click here for more information about all AELE Seminars
---
NOTED IN BRIEF
(SOME WITH LINKS)
Arbitration Punishment Awards - Right of Courts to Interfere
Ohio appellate court sustains an arbitrator's decision reinstating a police officer that was fired because of exercising poor judgment during a pursuit. The arbitrator's award was not unlawful, arbitrary or capricious. City of Lancaster v. FOP, #05 CA 103, 2006 Ohio 1380, 2006 Ohio App. Lexis 1252 (2006).
Attorneys' Fees and Legal Defense Rights
Tenth Circuit holds that when a litigant enters into a private settlement, without any judicial involvement, he is not a prevailing party, and is entitled only to an award of reduced attorney's fees. The Supreme Court held in Buckhannon Board v. West Virginia HHS, 532 U.S. 598 (2001) that a person is a "prevailing party for the purpose of awarding attorneys' fees under §1988 only if he has obtained a judgment on the merits, a consent decree, or some other settlement materially altering the legal relationship of the parties. Bell v. Jefferson Co. Cmsnrs., #05-3224, 2006 U.S. App. Lexis 15157 (10th Cir. 2006).
Back Pay Claims and Awards
Ohio appellate court holds that a town was entitled to deduct, from a back pay award, income that a sergeant derived from his construction business during the period between his termination and reinstatement. Bd. of Trustees, Miami Twp. v. FOP, #CA2005-05-041, 2006 Ohio 150, 2006 Ohio App. Lexis 118 (2006).
Bargaining Unit Determinations
Illinois Labor Relations Board Counsel finds that police sergeants in a downstate community were not supervisory employees because they did not consistently use independent judgment in either performing or effectively recommending supervisory authority. City of Fairview Heights v. FOP, #S-RC-05-110, 22 PERI 14, 2006 PERI (LRP) Lexis 7 (ILRBC 2005; rptd. 2006).
Florida labor board rejects a union demand that part-time sheriff's dept. employees be excluded from the bargaining unit. Part-time employees share a community of interest with full-time employees. PBA v. St. Lucie Co. Sheriff's Office, #RC-2005-041, Order #05E-262, 31 FPER (LRP) P252; 2005 FPER (LRP) Lexis 247 (Fla. Pub. Emp. Rel. Cmsn. 2005).
Collective Bargaining - Duty to Bargain
National Labor Relations Board, in a 4-1 decision, concludes that private companies that provide passenger and baggage screening services at airports under a contract with the Transportation Security Administration are subject to collective bargaining. Firstline Transp. Security and Int. Union, Security, Police and Fire Prof., Case 17-RC-12354, 347 NLRB No. 40 (NLRB 2006).
Disciplinary Hearings - Proof Required
Because of a criminal conviction, management did not have to prove at a disciplinary hearing that an employee assaulted coworkers. The doctrine of collateral estoppel applies. Miles v. Dept. of the Navy, #AT-0752-05-0242-I-2, 2006 MSPB 169 (MSPB 2006).
Disciplinary Interviews & Compelled Reports - Weingarten Rights
NY Public Employment Relations Board Administrative Law Judge declines to find that State Police management committed an unfair practice by denying an employee representation during an investigatory interview concerning the employee's involvement in a "critical incident." The grievant was not a target of the inquiry, and the union representative was offered an opportunity to be present at the interview of the grievant, without participation, but he declined. PBA NY State Troopers and NY Div. of State Police, Case #U-22830, 39 NYPER (LRP) P4547, 2006 NYPER (LRP) Lexis 66 (NY-PERB 2006).
Discovery, Publicity and Media Rights
Newspaper was entitled to learn the names of high-earning police officer and firefighter pension recipients. Detroit Free Press v. City of Southfield, #260083, 269 Mich. App. 275, 2005 Mich. App. Lexis 3151; appeal denied, #130438, 713 N.W.2d 776, 2006 Mich. Lexis 985(2006).
National Security Archive sues the Central Intelligence Agency, claiming that the Agency has unlawfully assessed the Archive for FOIA searches, contrary to the ruling in Nat. Secur. Archive v. DoD, 880 F.2d 1381 (D.C. Cir. 1989). Nat. Secur. Archive v. C.I.A., #1:06CV01080 (D.D.C., Filed 2006).
Grievance Procedures
A union president's decision not to read an e-mail that contained a revised payment schedule for prescription drugs "does not relieve him of responsibility for its contents" and the union's ULP charge was time barred. City of Boston and AFSCME, C-93, L-1526, Mass.Lab. Rel. Cmsn. # MUP-02-3623 (2006).
Handicap Laws / Abilities Discrimination - Psychiatric
EEOC affirms a finding that an employee was discriminated against because of her bipolar disorder. She was removed for making inappropriate comments, disrespectful conduct, and for leaving the job without permission. Soriano v. Wynne, EEOC #03A60080, MSPB #AT-0752-04-0745-I-2, 2006 EEOPUB Lexis 2414 (EEOC 2006).
Handicap Laws / Abilities Discrimination - Specific Disabilities
Ninth Circuit reverses a summary judgment for the employer on an ADA lawsuit brought by an epileptic heavy-equipment operator. The employee was entitled to a jury trial on the reason for his termination, his qualifications and whether he was a "direct threat" to his fellow employees. Dark v. Curry County, #04-36087, 2006 U.S. App. Lexis 16838 (9th Cir. 2006).
Physical Fitness Requirements, Agility Tests and Standards
Ohio State Employment Relations Board denies an unfair labor practice charge that management unilaterally implemented a fitness evaluation as part of the promotional process for deputy sheriffs. The Board found that the fitness evaluation is voluntary and is not a requirement for promotion. FOP L-101 and Butler Co. Sheriff, #05-ULP-09-0509, 23 OPER 30, 2006 OPER (LRP) Lexis 31 (Ohio SERB 2006).
Retaliatory Personnel Action
Los Angeles agrees to pay an officer $225,000 to settle his federal lawsuit. After he expressed concerns that racial profiling data entered by other officers was being fabricated, his superiors allegedly pursued unfounded complaints against him, raided his home for weapons, and reassigned him to a distant duty station. Dickenson v. City of Los Angeles, #2:04-cv-07214 (C.D. Cal. 2006); L.A. City Council Special Mtg. 6/7/2006 (Closed Session), Council Item #06-1163.
City was entitled to dismissal of a civil rights suit alleging retaliation because of the plaintiff's allegations of corruption; the employee did not present evidence substantiating a link between his reports of corruption and subsequent adverse employment actions. Healy v. City of Chicago, #04-3155, 2006 U.S. App. Lexis 14755 (7th Cir. 2006).
Retirement Rights and Benefits
Merit Systems Protections Board sustains an agency's determination that a former nuclear materials courier, who later became a law enforcement specialist/instructor, was not entitled to secondary law enforcement officer retirement benefits because his position was not a primary LEO position; although Congress specifically granted enhanced retirement benefits to nuclear materials couriers, it did not designate them as law enforcement officers. Fritts v. Dept. of Homeland Security, #AT-0842-05-0529-I-1, 2006 MSPB 160 (MSPB 2006).
City of San Diego agrees to settle a lawsuit alleging underfunding of its municipal pension plan. City to add $173 million into the system over the next five years. McGuigan v. San Diego, #GIC 849883, 44 (2162) G.E.R.R. (BNA) 657 (Cal. Super. 2006).
Sexual Harassment - In General
Arbitrator holds that an employer is not liable to a former employee, even though her supervisor had sexually harassed her, because she chose to maintain a journal to build up her case rather than to promptly report the supervisor's conduct. The employer conducted an immediate investigation once the conduct was reported and terminated him one week later. Travelers Indemnity and Indiv. Grievant, 122 LA (BNA) 569, AAA #58-160-00067-05 (Teitelbaum, 2006).
Sexual Harassment - Verdicts, Settlements & Indemnity
Appellate court confirms a jury award of $80,740 to a female employee for sexual harassment by male coworker is affirmed; although his touching of her buttocks and body occurred only few times over several months, she lost sleep, was nervous and sought medical assistance. Speedway SuperAmerica v. DuPont, #5D04-14, 2006 Fla. App. Lexis 8251, 98 FEP Cases (BNA) 459 (Fla. App. 2006).
Sick Leave & Abuse
NJ Public Employment Relations Cmsn. holds that an employer must bargain over the imposition of progressive discipline for sick leave abuses. Bor. of Roselle Park and P.B.A. L-27, P.E.R.C. #2006-85, Docket #SN-2006-033, 32 NJPER 72, 2006 NJPER (LRP) Lexis 69 (NJPERC 2006).
Telephone & Pager Monitoring / Audio & Video Taping
N.J. Public Employment Relations Cmsn. declines to find, as a matter of law, that management unlawfully installed videocameras in a hallway and at the front desk of a police station, without bargaining with the union. Because this was an issue of first impression, neither party was entitled to judgment as a matter of law, and an evidentiary hearing is required. City of Paterson v. PBA L-1, Docket #CO-2005-138, P.E.R.C. #2006 -50, 32 NJPER 5, 2006 NJPER (LRP) Lexis 4 (NJ PERC 2006).
Union and Associational Activity
Dept. of Labor revises regulations applicable to Federal labor organizations subject to the Civil Service Reform Act of 1978, the Foreign Service Act, and the Congressional Accountability Act. Labor organizations will be required to periodically inform their members of their rights as union members, provide written notice to existing members and to new members within 90 days and at 3-year intervals. Notification may be made by hand delivery, regular mail, electronic mail, or a combination of methods. Standards of Conduct for Federal Sector Labor Organizations, 71 (106) Fed. Reg. 31929 (6/2/2006).
Whistleblower Requirements and Protection
Federal appeals court affirms the dismissal of a suit by a DEA Agent, under the Whistleblower Protection Act. He failed to prove that he had made a protected disclosure under the Act. In order to constitute a "disclosure" protected by the WPA, a statement must reveal something that was hidden and not known. Fields v. Dept. of Justice, #05-3133, 2006 U.S. App. Lexis 14746 (Fed Cir. 2006).
• Return to the Contents menu.
Report non-working links here

RESOURCES
Cruise ships: Crime victim's assistance website.
Discrimination - guidance: "Questions and answers about employer responsibilities concerning the employment of Muslims, Arabs, South Asians, and Sikhs," U.S. Equal Employment Opportunity Commission (2005).
Uniformed federal workers: Office of Personnel Management issues intended regulations to increase the rate paid to nonmilitary federal employees that are required to wear a uniform, from $400 to $500. Allowances and Differentials, 71 (126) Fed. Reg. 37507, FR Doc. 06-5890, 5 CFR Part 591, RIN 3206-AL07.
Reference:
• Abbreviations of Law Reports, laws and agencies used in our publications.
• AELE's list of recently noted employment law resources.
• Discrimination Laws plus EEOC Regulations and Policy Guidance

Featured Cases:
Disciplinary Punishment - see: Arbitration Punishment Awards
E-Mail/Internet - Legal Issues - see: Unfair Labor Practices
Handicap Discrimination/Psychiatric - see: Suicide Related
Promotional Procedures - see: Age Discrimination
Uniforms & Clothing - see: Religious Discrimination
Noted in Brief:
Duty to Bargain - see: Physical Fitness
Duty to Bargain - see: Sick Leave & Abuse
Duty to Bargain - see: Telep. Monit. & Video Taping
---
AELE Seminars:
Criminal Justice Compliance & Management Audits
Oct. 30-Nov. 1, 2006 – Las Vegas
Public Safety Discipline and Internal Investigations
Dec. 11-13, 2006 - Las Vegas
Click here for more information about all AELE Seminars
---

Return to the Contents menu.
Return to the monthly publications menu
Access the multiyear Employment Law Case Digest
List of links to court websites
Report non-working links here.

© Copyright 2006 by A.E.L.E., Inc.
Contents may be downloaded, stored, printed or copied,
but may not be republished for commercial purposes.